Former West Albany HS Star Jackson Ruckert Part of #1-Ranked Linfield Baseball Team.
April 28, 2014
Junior Outfielder to Tryout for Knights; Earns 10-Day Contract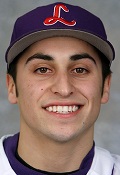 Nothing in life is guaranteed, but Linfield College junior outfielder Jackson Ruckert knows one thing for sure; if he doesn't stick with the Corvallis Knights for the entire season, it won't be for a lack of effort or commitment.
"I plan on coming to the Knights and bringing a blue-collar mentality to the park every day," the 10-day signee, a former standout at West Albany High School, said recently. "I pride myself on working hard, getting better in all aspects of my game, and having a healthy discontent for the present.
"It's about doing common things in an uncommon manner."
Ruckert is one of three Wildcats who will be on the roster for the Knights' June 4 season opener against the Portland Sea Dogs on Science, Engineering & Arts Day at Goss Stadium. He'll be joined by pitcher Chris Haddeland and outfielder Jimmy Cleary of Corvallis, another 10-day signee.
It's certainly not uncommon for 10-day signees to earn a full-time roster spot. Notable among that group are:
* Infielder Josh Hogan (2007-09) of Mt. Hood CC (and later Oregon), who earned West Coast League postseason honors each season and anchored the infield for the 2008 WCL champions.
* Outfielder Kramer Scott (2011) of University of Portland, who hit .625 with a homer and seven RBIs in five playoff games while helping the Knights win a WCL championship.
* Pitcher Rob Dittrick (2012) of Pacific, who was the WCL ERA champion while earning the Knights' Top Pitcher award.
Described as an outstanding defender with a strong arm who can play anywhere in the outfield, the 5-foot-9, 175-pounder has had the misfortune of being stuck behind a cache of tremendous outfielders during his Linfield tenure. As such, he's played sparingly on the varsity the past two seasons, appearing primarily as a pinch-hitter, pinch-runner or late-inning defensive replacement.
He is currently hitting .083 over 12 at bats.
"We have a tremendous amount of depth, and reserves know we can contribute as much as the starters," he said. "It's just a matter of staying ready so you don't have to get ready.
"My skills translate to the Knights extremely well. The Knights win and coming from Linfield, we win. Speed and quickness, and good defense are my strong suits. They are cornerstones of winning baseball, and I plan on incorporating those during my time with the Knights.
"When I first signed I was extremely excited for the opportunity to play for a team I grew up watching, and to play in front of family and friends. I want to focus on taking in this unique opportunity and soak it all up, more than worry about performing.
"If I relax and play my game, the rest will take care of itself."
Ruckert has appeared in 24 games this season and has been productive in a limited role. He's scored four times, and played flawless defense. He played in 27 games for the 2013 national-championship team, and hit .154 (2-13) with five runs and three steals in as many attempts.
"My season is going great," he said. "We are ranked No. 1 in Division III and just clinched a berth to play in our regional we host in mid-May," by winning the Northwest Conference championship for the second year in a row and for the fourth time in the past five seasons.
Ruckert lettered three times in baseball and three times in football at West Albany before heading up to Linfield. In baseball he compiled a .421 career average; was a three-time Mid-Willamette Conference all-star; was a two-time 5A all-state selection, and helped the Bulldogs win two MWC championships.
He also spent two summers with the Gerding Builders Marketmen American Legion team, while his hometown Albany Mid-Valley Rockets were on hiatus. He played against the Knights in 2010.
"It was a great experience to play against top-quality players from all around and use it as a measuring stick," he said. "I believe it was a pretty close game.
"I played in the Les Schwab High School all-star football game the day before so I was fairly sore, but I remember throwing out a guy from WSU [JK Dykes] at third while playing center field.
"Growing up in Albany, I was able to attend one or two Knights' game a summer. With the hectic schedule of summer baseball and preparing for high school football, it was difficult to get to as many games as I would have liked."
He spent last summer with the Bend Elks and Bend Bucks before heading off to Texas for an internship.
"The best thing about that experience was getting to explore and become familiar with Bend, and make friends that I will have the rest of my life," he said.