Knights Enjoy Extended All-Star Break.
July 22, 2013
Corvallis Looks to Finish Strong and Earn Postseason Berth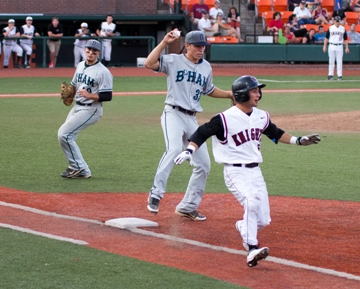 The Corvallis Knights are enjoying a five-day hiatus thanks to a scheduling quirk and two-day All-Star break that gets started today for the entire West Coast League.
The Knights last played on Thursday, July 18 in a non-league game vs. the Mid-Valley Rockets at Goss Stadium before a crowd of 1,830. Corvallis blasted the Rockets 13-1 as Joe Duffin of UC Santa Barbara, Michael Lucarelli of Portland and Gus Craig of Columbia all homered.
The WCL first-half concluded yesterday with Corvallis in second place in the South Division. The Knights, at 25-15 overall and 21-15 in the WCL, are 1.5 games behind the first-place Bend Elks (23-14).
Corvallis has surged lately thanks to series home sweeps versus North Division leaders Wenatchee (22-17) and Walla Walla (22-17). The team posted a 10-1 record over an 11-game home stand from July 2-13 with series wins vs. the top contenders in the North; Bellingham, Wenatchee and Walla.
The Knights started the season slowly as the team was in last place after its home loss to Kitsap on June 12 with a 2-5 record. Since, Corvallis has registered a 19-10 mark and won 8 of 10 series. For the summer, the Knights have taken 8 of 12 series and have only been swept once, at last-place Kitsap. The BlueJackets took the season series 4-2.
Corvallis is an impressive 14-4 at Goss Stadium and total attendance is 28,222 over 22 home dates (per game average of 1,282).
The Knights however are 7-11 away from home, but earned key road series wins at Medford and Bend.
Corvallis has lost 10 one-run games, and won only 5 one-run contests.
At the All-Star break, the team leads the WCL in ERA at 2.91 with Bellingham the next lowest at 3.42. Corvallis also leads the League in stolen bases with 85, and is fifth in the WCL in batting average at .266.
Five Knights' players were selected to participate in the Tuesday's WCL All-Star Game in Victoria including catcher Dane Lund of San Jose State, center fielder Blake Drake of Concordia, third baseman Cody Lenahan of Portland, pitcher Devon Barker of Central Washington and reliever Brandon Choate of Tacoma CC. Barker was selected by fan vote.
Lund leads the Knights in hitting with a .330 average and is tied for the team lead in stolen bases with 15 with Grant Melker of San Diego (Melker pictured reaching base safely vs. Bellingham at Goss Stadium). Drake leads the club in doubles with 10, runs with 25, at bats with 135, hits with 40 and RBIs with 22. Blake is hitting .299 and has stolen 13 bases. Lenahan is hitting .309 with 8 doubles, 1 triple, 1 homer and 16 RBIs.
Choate, a junior-to-be at University of Washington, has made a team-high 12 appearances and is 1-1 with two saves, and has struck out 14 over 14 2/3 innings pitched while posting a 0.61 ERA.
Barker earned WCL Player of the Week honors for his near no-hit performance on Sunday, July 9 at Cowlitz. The southpaw leads the team in innings pitched with 32 2/3 and is 2-2 with a 3.85 ERA.
The team has started to heat up offensively with the warmer temperatures as Corvallis has scored 62 runs over its last 9 WCL games for an average of nearly 7 runs per game.
Corvallis has benefitted greatly from the emergence of starters Jacob Schroeder of Washington State (2-0, 2.00), Elliot Surrey of UC Irvine (3-1, 1.68) and Chris Bishop of Pacific Lutheran (1-2, 2.05). They have filled a void created by the losses of Oregon State frosh stalwarts Andrew Moore and Max Engelbrekt.
Closer Jorge Perez of Grand Canyon (0-1, 0.67) turned in a masterful first-half recording 6 saves over 8 appearances and 13 1/3 innings pitched. Jorge's spring teammate - frosh southpaw Andrew Naderer (2-1, 1.35) - also pitched very well as he's primarily started for Corvallis.
The other starter and arguably the ace of the staff has been Casey Bloomquist of Cal Poly (3-0, 3.37) who is tied for the team lead in wins with Surrey with 3 over 4 starts and 24 innings pitched.
Alex Nesbitt of Washington (1-0, 2.41) and Oregon State frosh-to-be Kevin Flemer (1-0, 1.54) have pitched very well in middle relief and continue to progress each outing. Sean Eberhardt of George Fox (2-0, 2.77), a 10-day signee, earned a spot on the squad by pitching effectively in primarily relief over 7 appearances and 22 2/3 innings pitched.
Hard throwing right-hander Colin Feldtman of Portland (0-2, 5.16) has been moved to the bullpen where his last two outings have been outstanding including a save vs. Walla Walla.
The team loses Dylan Hecht of UC Santa Barbara (0-2, 3.06) after its Medford home series to summer school. Hecht has struck out 18 over 14 2/3 innings pitched.
Defensively, Drake has shined in center field and shortstop Peter Van Gansen of Cal Poly (.263, 14 RBI) has posted a 1.000 fielding percentage at shortstop over 23 games played at the position.
The offense has been led by WCL All-Stars Drake, Lund and Lenahan, and outfielder Grant Melker, first baseman Kevin Kline of Dixie State and Mississippi State junior-to-be infielder Seth Heck. Melker leads the club in on base percentage (.448), walks (17) and stolen bases (15), and is hitting .320 with 18 runs scored. Kline is hitting .287 with 7 doubles and 16 RBI, and leads the team in HR with 2. Heck is hitting .304 with 11 RBIs.
Chris Rabago of UC Irvine (.247, 1, 12) and Dane Lund have been solid leaders at catcher with Rabago and Lund splitting time between infield and outfield, respectively.
"We've played some good baseball and progressed really nicely as a team," said Knights' skipper Brooke Knight. "Our defense has been sound and our pitchers are doing a nice job getting better each outing, and the team speed has been really good. You add our recent offensive surge and it's encouraging. There is no doubt this is a special group of kids, and we hope to keep playing well and earn a playoff berth."
Corvallis re-starts WCL play this Wednesday, July 24 at home vs. the red-hot Medford Rogues (20-19), who have won six straight. The Knights follow their home series with the Rogues with a six-game away trip to Victoria and Kelowna.
"We have a neat opportunity to finish strong and get to the postseason," said team president Dan Segel. "We'll see how things finish up, but the coaching staff is really pleased with the progression of this club and the guys are excited to play some more baseball."
To check out our All-Stars and to find out what some of the players are doing over the All-Star break, click here to watch Kellie Burch's All-Star video.