Knights Add Assistant Coach.
October 7, 2015
Former Beaver Outfielder Max Gordon Joins Staff for 2016.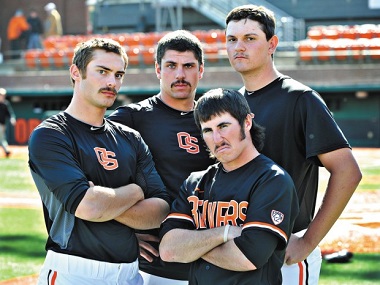 Former Oregon State outfielder Max Gordon (pictured, center, with ex-Knights Ryan Gorton, middle back, and Ben Wetzler, left with arms folded) will join the Corvallis Knights staff as an assistant coach for the 2016 season, head coach Brooke Knight announced Wednesday.
A native of Ashland, Gordon lettered in center field for the Beavers in 2011-13 and was a starter on the 2013 Pacific-12 Conference championship team that advanced to the College World Series. His 2011 and 2012 OSU teams also advanced to the postseason.
"We are really excited to announce the addition of Max Gordon," Knight said. "Although Max is young, he has already had experience in the West Coast League. If he brings the same energy to our club that he brought as a player at Oregon State; he is going to add value in the clubhouse and on the diamond.
"Max maximized his skills as a player, and we expect nothing less from him as part of our coaching staff. It is a solid acquisition for our family and I look forward to watching Max further his coaching career next summer."
Known for his acrobatic catches, fiery attitude and aggressive baserunning, Gordon hit .227 in his three seasons at OSU, with 20 RBIs and eight stolen bases in 127 career games after joining the program as a walk-on following a season at Sierra College (JC).
A human development and family sciences major at OSU, Gordon began his coaching career as an assistant for the Medford Rogues in 2014. He then was named the head coach of the Willamette Valley Brewers of the Oregon Collegiate Baseball League and led them to a second-place finish in 2015.
Gordon worked under former Knights standout Josh Hogan (2007-2009) with the Rogues in 2014.
"Max is, was, and still is one of the fiercest competitors in the game of baseball," Hogan said. "His determination, toughness, and spark plug mentality that he brings to the club can't be rivaled.
"What makes Max special is his ability to cause young men to live up to their full potential on and off the field."
Gordon was a three-year starter and 5A all-state center fielder at Ashland High School before enrolling at Sierra. He also was an all-conference linebacker in his only season of football.
He joins a staff that already includes Knight, who begins his ninth season as head coach in 2016; sixth-year pitching coach/associate head coach Connor Lambert, and first-year assistant coach Kevin Gunderson.