Knights Intern Roster Set for 2015.
May 14, 2015
Senior VP of Operations Holly Jones Announces Team of Students from OSU, Oregon and Cal Poly.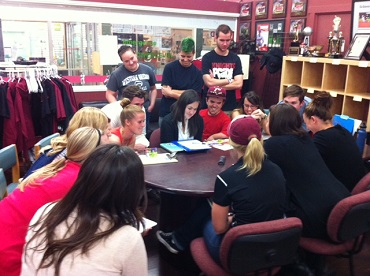 An expanded, directed and motivated team of interns will play a much larger role with the Corvallis Knights this summer.
Ten students from Oregon State, Oregon and Cal Poly have been working for several months to help the Knights usher in the "Golden Era" of the franchise, which this year celebrates its 25th anniversary overall and its ninth in Corvallis.
"I am incredibly pleased with our interns this season," said Holly Jones, the Knights' Senior Vice-President for Operations. "They are motivated, intelligent and eager to learn.
"I could not be more excited to be going into the season with this group of young talent."
The interns will work with almost every aspect of the Knights' organization, from merchandise sales, on-field entertainment, marketing, data analytics, ticketing and branding. They often receive academic credit and are exposed to the sports business via a wide range of preseason and summer projects that require critical thinking, creativity, enthusiasm and commitment.
The Knights' 2015 intern team features:
Hayley De Carolis, a senior at Cal Poly who graduates this June with a degree in sports management, with an economics minor. A native of Corvallis, Hayley graduated from Crescent Valley High School, where she played soccer and softball.
At Cal Poly, she belonged to the Rho Phi Lambda Honors Fraternity and the Recreation Parks & Tourism Administration Club and tutored for the Orfalea College of Business Economics.
"I will work with all customer and team data sources to recommend specific analysis, to be performed alongside goals and actionable outcomes," she said. "I will also work closely with the box office manager and senior vice-president of operations to provide analysis and process improvement recommendations, focused on building loyalty."
Megan Kelsh is a rising senior at Oregon from Albany. A business administration major concentrating in sports business, with a minor in media studies, she belongs to the Warsaw Sports Business Club and the Alpha Kappa Psi Professional Business Fraternity. She graduated from South Albany High School in 2012.
"I will work on social media strategy and promoting the new Knights' branding via marketing and ad planning throughout the season," she said.
Happy Valley, Ore., native Sam Schiller will write, shoot and edit all of the team's promotional videos this season. A graduate of Clackamas High School, Sam will graduate from OSU in December with a degree in digital arts communication. He is a member of the Chi Phi fraternity.
Corvallis native and Corvallis High graduate Emme Punches is a junior in OSU's College of Business. A member of Kappa Alpha Theta. She also played lacrosse at CHS.
"I'm a partnership marketing intern," she said. "I deal with promotional events, and ensuring our partners get everything they are promised."
Anna Seydel is a senior-to-be at Oregon from Kennewick, Wash. The Kamiakin High School grad is in the Clark Honors College, majoring in advertising and Spanish, and is a member of the Warsaw Sports Business Club
"I am the Community Relations intern," she said. "I coordinate community appearances and I am in charge of the Corvallis Knights Reading Club."
Estacada High School graduate Melissa Sullivan will be the team's Pointstreak statistician and help Director of Media relations Brooks Hatch with postgame quotes and other duties.
A junior at OSU majoring in speech communications with a minor in business, Sullivan is an intern in the OSU sports information department. She was a three-year varsity cheerleader at Estacada and also managed the football and baseball teams her senior year.
OSU freshman Garrett Ross grew up in Harrisburg and graduated from HHS. He's a prospective pre-business management major who will work in hospitality management with the Knights.
"I will interact closely with organizations or companies holding special events in one of Goss Stadium's exclusive venues," he said.
Merchandise intern Kelsi Schaer, a rising senior at OSU majoring in marketing and finance, is a Tigard native and graduate of Tigard High School. She played soccer, cross country and track for the Tigers and is a member of the OSU cross country and track teams, specializing in middle distance. She is also a YoungLife leader in Corvallis.
"I will focus on inventory forecasting and management," she said.
Another Albany native and SAHS graduate, OSU sophomore McKenzie Laster will also work in merchandizing. She lettered four years in golf and twice in volleyball for the Rebels.
"I will work with the merchandising team to ensure we make as many sales as possible and serve our fans' needs," she said. "I also work with the Lil' Knights Kids Club, signing up and issuing membership cards to all of our kids."
Ventura, Calif., native Sara Kniss is a rising OSU junior, majoring in merchandising management. She played volleyball at Buena High School in Ventura and is a member of the Sigma Kappa sorority at OSU.
"My job is to sell merchandise, collect inventory, process payment, and work with other departments to create branding or media promotions," she said. "I also organize how merchandise is placed so it catches the consumer's eye."
OSU's Brandon Buchanan will work in ticket sales and analytics. A Beaverton native, he is a member of the Phi Delta Theta fraternity.
"I will help the process of ticket sales while processing data," he said.
"They will be a great addition and they will be exposed to a real-world work environment," general manager Bre Miller said. "Our previous interns have been outstanding and we anticipate that will be the case this year as well.
"They have hit the ground running and are off to a good start."