Fans Vote for Rob Dittrick.
July 14, 2012
Junior Pitcher from Pacific Earns All-Star Spot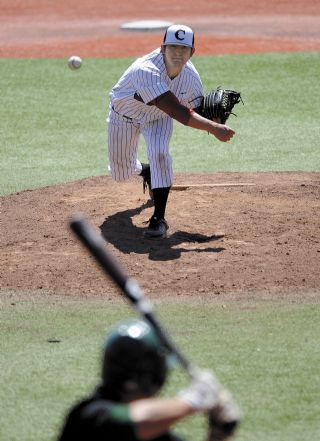 Pitcher Rob Dittrick (pictured) of the Corvallis Knights has been selected to play in the 2012 West Coast League All-Star Game in a vote of the fans.
Dittrick is a right-hander from Mililani, Hawaii who will be a senior at Pacific University this fall. A 10-day contract signee who made the squad, Rob is 3-1 in seven appearances, with a 1.54 ERA and 19 strikeouts in a team-high 35 innings.
This past spring, Dittrick (8-2, 2.87) was named first-team All-Northwest Conference (DIII) and D3baseball.com All-West Region.
Fans from each WCL franchise select one player from their respective team for the All-Star Game, scheduled for July 24 at Borleske Stadium in Walla Walla. Dittrick received 90,055 votes to outdistance runner-up AJ Burke of Western Oregon, who had 53,126.
Knights' fans cast more than 151,000 votes online, or in person at Goss Stadium or at Wilson Motors.
The complete East and West teams will be announced on Tuesday, July 17. The MLB Scouting Bureau names 12 must-see prospects; the rest of the 21-man rosters are filled by a vote of the coaches.
The East won last year's game 4-2 in Corvallis before an All-Star Game-record crowd of 2,514 fans.
Last summer's fan vote selection Sean Myrom of Concordia won the 2011 All-Star Game Home Run Derby.
The Knights open a five-game series with West Division rival Bend at 5:15 p.m. Sunday at Goss Stadium. The teams play at Bend on Monday and Tuesday nights, then return to Corvallis for 6:40 p.m. games on Wednesday and Thursday.