Corvallis Knights Skipper Brooke Knight Leads Perth Heat to ABL Title.
February 12, 2012
Perth Repeats as MLB-funded Australian Baseball League Champions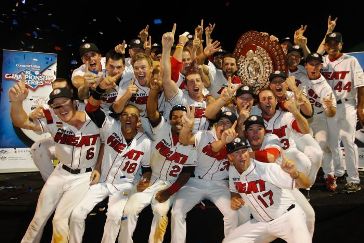 Corvallis Knights head coach Brooke Knight directed the Perth Heat to their second consecutive Australian Baseball League title on Sunday as the Heat edged Melbourne 7-6 in 13 innings in the decisive third game of the ABL Championship Series.
The Heat won Friday's series opener 4-1; Melbourne prevailed 3-2 in 13 innings on Saturday to force the decisive third game. All three games were played at Barbagallo Ballpark in Perth.
Perth was the regular-season champion and the No. 1 seed in the playoffs. It defeated No. 2-seeded Melbourne 3-1 in a best-of-five first round match to advance directly to the Championship Series. Melbourne, which had to lose two series because it was seeded second, then moved to the finals by eliminating Sydney in the second round.
The Heat defeated Adelaide in the 2011 ABL Grand Finals to claim the Claxton Shield, the league's equivalent of Major League Baseball's Commissioner's Trophy.
Knight is a native of Corvallis and a graduate of Crescent Valley High School and Oregon State. He has coached the Knights since 2008 and has guided them to four consecutive West Coast League West Division titles and WCL crowns in 2008 and 2011.
As a field manager, Knight has now won three consecutive titles.
One of Brooke's Heat assistant coaches was his Beavers' teammate and Knights' alumnus Kevin Hooker (91-92, 94).
Former Knight/Beaver Dylan Jones and 2008 Corvallis Knights MVP Alex Burg, a prospect in the San Francisco Giants minor-league system, played for the Heat this season. Ex-Knight/Linn-Benton CC pitcher Liam Baron (2008-2009) was on the roster but missed the season with an arm injury.
A pitcher/DH, Jones (2009-2010) appeared in all three finals games going 0-for-7 in the ABL Championship Series but the pride of Aloha, Oregon had a key sacrifice bunt in the crucial 13th-inning of game three. As a pitcher during the regular season, Dylan went 1-0 with a 4.91 ERA over four mound appearances.
A catcher, Burg returned to the United States in January to prepare for the 2012 minor-league season; he hit .277, with 10 homers and 23 RBIs, in 34 games and made the ABL World all-star team.
Coach Knight is returning for a fifth season as the Knights' skipper in 2012, and will look to repeat again, and stretch his championship streak to four.
Knight provides the right atmosphere for the Corvallis Knights by KEVIN HAMPTON, Corvallis Gazette-Times