Ex-Knights' Southpaw Ben Wetzler of Oregon State Gets Opening Day Start in Tempe, Arizona.
February 13, 2014
#2-Ranked Beavers Kick-Off Season vs. Gonzaga Friday, Feb. 14. Corvallis Alums Wetzler, Jace Fry and Scott Schultz to Anchor OSU Pitching Staff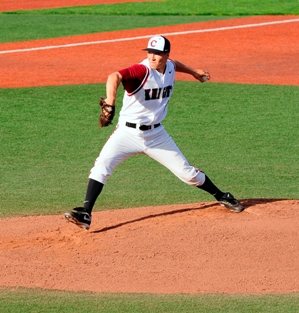 Three members of the 2011 Corvallis Knights pitching staff that dominated the West Coast League hope to duplicate that success in their final seasons at Oregon State.
Seniors Ben Wetzler and Scott Schultz and junior Jace Fry (pictured pitching for the Knights at Goss) are expected to play major roles in the pre-season #2-ranked Beavers quest for a repeat Pacific-12 Conference championship and a return to the College World Series.
They were an integral part of a star-studded pitching galaxy that led the WCL in ERA (2.43); strikeouts (401); saves (17); opponent's batting average (.220) and fewest earned runs (134) and hits (402) allowed.
Wetzler and Schultz joined the Knights after their freshman seasons at OSU; Fry joined the club after being named the Oregon 6A Player of the Year following his senior season at Southridge High School in Beaverton.
Ben was 0-0 in 16 games, with a 0.38 ERA, two saves and 19 strikeouts in 24 innings. He allowed only one run all season, was second-team All-WCL and was voted the top prospect by MLB scouts at the 2011 WCL All-Star Game held at Goss Stadium.
Schultz was 4-3, 3.56 in 16 games, with a save and 32 strikeouts in 30.1 innings. Fry was 2-1, 1.40 in nine games, with 33 strikeouts in 38.1 innings, before leaving the team just before the playoffs to concentrate on his decision whether to sign with Oakland or attend OSU.
Fry was ranked as the WCL's top pro prospect by Baseball America and Perfect Game Crosschecker. Wetzler was rated No. 3 by PGC and No. 4 by Baseball America.
Four players from the 2011 staff (Chris Johnson, Chase Johnson, Jimmie Sherfy and Max Beatty) have already turned pro. This talented trio is expected to join them this June, when they should be re-selected in the major-league draft and then begin their professional careers.
Until then, however, they're concentrating on having big springs for the Beavers, who fell two wins short of playing for the NCAA title in 2013. They open the season on Friday against Gonzaga at a tournament in Tempe, Arizona.
Wetzler is the acknowledged leader of the OSU staff. Selected by Philadelphia in the fifth round of the 2013 draft, he surprised many by foregoing the pros and electing to return for one last shot at an NCAA championship.
"That's huge for us, especially with his leadership," Fry said. "Knowing what he gave up to come back... he wants to get back to Omaha and wants to take it home. Everyone feeds on his hunger, and Scotty's too."
It's the second time the 6-foot-1, 195-pound lefty had rebuffed the pros. He was drafted in the 15th round by the Cleveland Indians in 2010 following his senior season at Clackamas High School.
Saying no to the Phillies was tougher; rarely do college players drafted that highly return for their senior seasons. But there were no second thoughts and he intends to better the outstanding numbers (10-1, 2.25) he put up in 2013.
"As soon as the signing deadline hit, there was such a sense of relief," he said. "Once you make a decision like that, you can't look back."
"Now I'm more experienced I think, I've been through it all," and now is better positioned to be even more of a leader in 2014. "I'm the grandpa, the old guy out there; there are only three of us four-year seniors.
"We've been through the wars. We know what it takes, we know how to handle the coaches, how to handle the young guys. I think that can be a big key in getting us where we want to go."
Mr. Wetzler was recently rated as the No. 1 returning senior draft prospect by Perfect Game.
Schultz was 2-1 with a career-low 2.08 ERA and a team-best 10 saves for the Beavers in 2013, and earned second-team all-Pac-12 honors. He was selected by Miami in the 17th round of the draft but decided to return and with hopes of establishing the start-to-finish consistency that should make him an even higher selection.
"It was tough," he said of his decision. "I thought about it for a while, but when I really put it down on paper and weighed the positives and negatives, there wasn't much holding me back from coming back.
"We have another great team. I'll be able to finish up my schooling. Baseball will still be there, I will get drafted again, barring anything crazy. It's easier to be closer to home also."
He did not play last summer and instead stayed in Corvallis, concentrated on gaining strength and conditioning, and helped with the Knights' grounds crew.
Scott said the break was helpful.
"I definitely missed the competition, but I was able to get into the weight room a little more consistently," he said. "My arm has felt a lot better since taking the summer off.
"My slider has made a lot of strides. I feel I'm in better shape and I'll be able to extend my innings count a lot more, at least in the beginning."
Schultz is versatile enough to start, as he did in high school and in three games as a freshman, or close, as he did in 2013.
"I will get a shot to start toward the beginning of the season," he said. "My mentality has always been to pitch when I'm told to pitch, and get outs. That's what I'm going to do. Starting has always been in the back of my mind, so maybe I'll get ahold of the job and never let it go."
Fry's strong summer with the Knights carried over to school ball and he had an excellent freshman season (5-3, 2.45) in 2012. However, he hurt his elbow during an NCAA Regional victory over Belmont and then underwent successful Tommy John reconstructive elbow surgery that limited his 2013 season to 7.2 innings in six appearances.
He took last summer off to continue his rehab, is 100 percent healed, and better than he was before the injury. He now a solid 6-foot, 187 pounds,
"All my pitches have improved, everything's been a little sharper," he said. "During the rehab process I kind of retaught myself how to throw, and things came back a little more polished.
"The best thing I did was taking [last summer] off. I stayed [in Corvallis] and worked out with my strength coach and got my flexibility back. It was kind of like a re-set button. I got to start from scratch and then everything felt good."
The Beavers are now reaping the benefits of the leadership skills Wetzler began to display during his summer with the Knights. He wasn't the oldest or most experienced player, but he quickly grasped a leadership role and became the team's vocal and emotional cornerstone.
"I had my high-school leader on that team, Corey Davis," Wetzler said, alluding to the standout catcher/DH from Wright State, who he also played with at Clackamas High School. "We just knew what it took to lead a team.
"It's becoming a family. A leader needs to make everybody become brothers, and I learned the importance of that that summer.
"Most people don't enjoy playing summer ball; they want to get out of there as quickly as they can. That team was special. I still talk to 90 percent of those guys. Nobody wanted to leave or go home when it was all done."
Game notes for OSU's opener vs. Gonzaga on Friday, February 14
Ben Wetzler of the OSU Beavers enters senior season eager to join the dog pile - The Oregonian