Pittsburgh Pirates Pitchers & Catchers Report to Spring Training Wednesday, February 12.
February 11, 2014
Ex-Knight Chris Stewart Returns to National League; Starts Journey with Bucs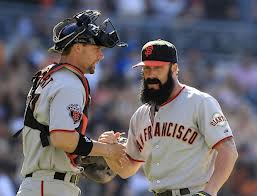 Former Aloha Knights catcher Chris Stewart (pictured with the San Francisco Giants and closer Brian Wilson in 2011) was re-introduced to the oft-time callous nature of professional baseball this past December when he was traded to the Pittsburgh Pirates after spending the past two seasons with the New York Yankees.
It was the second time in three years that Stewart, the MVP the Pacific International League while playing with the Knights in 2001, was traded to the "other" league. In 2012, the San Francisco Giants dealt him to the Yankees just hours before opening day.
He signed a one-year, $1 million contract with Pittsburgh and is excited about his new surroundings. Chris is eagerly anticipating a new start with the Pirates, a franchise on the rise. They ended a 20-year streak of losing seasons in 2013 and then won the National League wildcard playoff game to advance to the divisional round, where they were eliminated 3-2 by the St. Louis Cardinals.
Stewart established career-highs in games (109); at-bats (294); runs (28); hits (62); homers (4) and RBIs (25) with the Yankees in 2013, while providing outstanding defense. He now has eight homers and 51 RBIs in 257 career games with Texas, the Chicago White Sox, San Diego, San Francisco and the Yankees.
A standout at Riverside City College, he hit .342 for the Knights in 2001, with five homers and 46 RBIs, and raised his professional profile significantly. Already selected by the White Sox in the 12th round of that year's draft, he turned pro shortly after the Knights' season ended.
He began his pro career in 2002 at Bristol (Va.) in the Class A Appalachian League, and then began a steady rise through the ChiSox's farm system. He eventually made his major-league debut for the White Sox on Sept. 6, 2006. Traded to the Texas Rangers in that off-season, he subsequently played for the Rangers (2007), the Yankees (2008), the San Diego Padres (2010), the Giants (2011) and the Yankees again (2012-13) before heading back to the National league with the Pirates.
The Knights caught up with Stewart last month for a Q&A on a variety of topics.
KNIGHTS: Are you excited about the trade to Pittsburgh and a fresh start in a new city?
STEWART: "I would have loved to finish my career with The Yankees, as I had so many great memories, and played so many great people. However, they made some upgrades this offseason, which left me expendable.
"I am just truly thankful that they sent me to an organization that is on the rise, and has many great things going for it. I can't wait to get down to Spring Training this year, and get this season started."
KNIGHTS: The Pirates made the playoffs last year and seem to be on their way up. I'm sure you've checked out the team. What do you like about it?
STEWART: "I like how young and talented this team is. Last year was not a fluke, and with the leadership from our manager [Clint Hurdle], this is an organization that should be successful for many years to come."
KNIGHTS: Is it nice to re-connect with Russell Martin, a 2012 Yankees teammate and fellow catcher, and to play alongside Andrew McCutcheon, a rising superstar?
STEWART: "Russell and I had a great relationship in New York, and I am looking forward to working with him again. We are both veteran guys who want to get the absolute best out of our pitching staff. We bounce information and ideas off of each other to try and come up with the best way to help our team win each and every game.
"McCutcheon is a dynamic player. I have been playing against him for quite some time now, and have marveled at his talent. He put it all together last year and had an incredible season. I am just glad that I will finally be playing with him, instead of against him."
KNIGHTS: When do you head to Florida for the start of spring training? What have you been doing in the off-season?
STEWART: "I will be heading down to spring training after the first week of February. My offseason consisted of just lifting weights and doing cardio until December. January is when I started doing baseball activities to get me back into "baseball shape" before I leave for spring training.
KNIGHTS: With interleague play, and your seasons with the Giants, how big of a deal will it be to change leagues? Do you already have a working knowledge of many NL hitters and pitchers?
STEWART: "I am looking forward to getting back into the National League, as I believe it is easier to manage a lineup as a catcher. We don't have a designated hitter to deal with, and most times in the American League, that is a team's best hitter.
"Playing in the National League before will also help with knowing which pitchers throw what, and how, so it will be more comfortable than my first go around."
KNIGHTS: What were some of your favorite memories with the Yankees the past two years?
STEWART: "This past season with the Yankees was one I will truly never forget. From being the starting catcher for the New York Yankees, to catching Andy Pettitte's final game and win, to watching the greatest closer of all time call it a career, it was a dream.
"I can honestly say that just being able to witness these things was a blessing, but to actually be a part of them was something even greater."
KNIGHTS: Is it tough to change teams again, or can you simply shrug that off as just being part of the business of baseball?
STEWART: "I have actually gotten used to changing teams, as I have done it quite a few times in the past. It is part of the game, and a player like me is just happy to be on a team the next year, regardless of who it is with."
KNIGHTS: Your Knights' ticket donations to the Lebanon Boys and Girls Club through Stew's Crew were very popular. Did you get any sort of feedback from the kids who got tickets, or from the B&G Club?
STEWART: "I was truly honored to take part in the Stew's Crew tickets. For me to give back to a team, and a community that helped me and my career is a no-brainer.
"Everybody should get the opportunity to enjoy the game of baseball, and for all the kids to earn the opportunity to come to a Knights game through their hard work is a reward that I am more than happy to help facilitate."