Knights' Infielder Marc Gallegos Healthy, Happy and Barreling Balls at Corban University.
March 8, 2014
2012 Second-Team All-WCL Second Baseman Eager to Chase Ring for Corvallis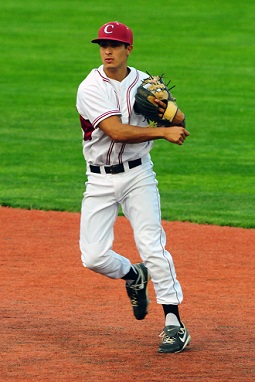 Two years ago Marc Gallegos entered his first season with the Corvallis Knights with something to prove.
Signed to a 10-day contract in 2012 following his freshman year at Corban University, the lithe 5-foot-10, 180-pounder from Astoria knew he had to make an immediate impression if he wanted to stick with the club for the duration.
"I had a little bit of a chip on my shoulder, absolutely," Gallegos said this past Saturday, speaking before a doubleheader with Oregon Tech at Santiam Christian High School. "It was a great opportunity to even get a shot.
"[Corban] Coach [Jeff] McKay was always really encouraging, telling me to just go out and play, and see what happens. I wanted to show the Knights I could steal some bases and hit for average.
"They gave me a legit shot, and that's all I needed."
Indeed, Gallegos more than fulfilled McKay's preseason prediction to Knights' president Dan Segel that he'd earn full-time status and become one of the club's top players.
Gallegos hit .316 (49-155) in 43 WCL games at shortstop, second base and in the outfield, pilfered a team-high 21 bases, and was a second-team all-West Coast League selection while helping lead the Knights to the WCL Championship Series.
"It was very exciting, it was always fun to play with those guys, especially in that great weather," Gallegos said in recalling the summer, which ended with the Knights falling to Wenatchee in Game 3 of the WCL Championship Series.
"That was a fun group.
"The coaches are very energetic; you play in great weather on a great field. It's just a great league to play in."
One of the Knights earliest signees for the 2014 season, Gallegos had originally planned to return to the team last summer. But he suffered a severely dislocated left shoulder midway through what was shaping up to be a monster sophomore year at Corban, and was sidelined for nearly six months.
"It was a freak accident," he said of the injury, sustained while diving back into first base on an attempted pick-off play. "There was a tear in the labrum and the bone was damaged."
It took several operations to correct the damage; he wasn't cleared to resume workouts until mid-summer and he didn't feel completely recovered until fall.
"Now I think it's doing everything I need it to do, and I'm really happy with it," he said of the shoulder. "I think about it once in a while but when it's game time I don't notice it too much. I just try to play hard and I haven't had any issues yet.
"I've had a lot of good work with my coaches. They have really helped with my development and getting back on pace, because I had a long time off. It's been a continual effort, trying to get better every day."
Now it's as if he never missed a beat. A .363 career hitter entering the season, Gallegos is batting .362 through his first 15 games, with a homer, four RBIs, five steals and a team-leading 16 runs.
He's eagerly looking forward to summer ball, and the chance to collect the championship hardware he missed out on in 2013. And this time, there's no chip on his shoulder. He knows he belongs.
"It means a lot when the team gives you a lot of support and gives you a full contract," he said. "The support the Knights gave me through the surgery and the rehabs, it shows they really care about you.
"They say that once you're a Knight you're always a Knight. That's definitely how I feel as a full contract guy now."