WCL All-Star Colin Feldtman Heads Three Signees from Portland.
November 2, 2012
Pilots Lenahan, Lucarelli to also Join Knights for 2013 Seasnon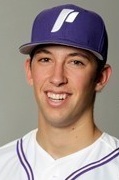 If you can't beat him, sign him.
That's the approach the Corvallis Knights have taken with University of Portland junior pitcher Colin Feldtman. A Knights-killer in 2012 while playing for the Kitsap BlueJackets, Feldtman will change uniforms and instead play in Corvallis this summer.
The 6-0 foot, 180-pound right-hander from Bainbridge High in Bainbridge Island, Wash., is one of three Pilots to sign with the Knights on Friday. The Knights also inked sophomore infielders Cody Lenahan (pictured), and Michael Lucarelli, both of whom started as freshmen.
Feldtman was 1-0 with two saves and an 0.89 ERA in three appearances against Corvallis in 2012. He was 4-4 overall, with four saves and 21 strikeouts in 31.2 innings over 16 games, played for the West Division team for the WCL All-Star Game, and saved the West's 3-2 win with 1.1 innings of scoreless relief, with four strikeouts.
He pitched a complete-game, 6-1 victory over the Knights at Kitsap on July 31 in his final appearance for the BlueJackets. He also played at Kitsap in 2011 and was 2-0, 3.97 in six games, with 20 strikeouts in 22 innings.
Feldtman's energetic dancing outside of the Kitsap dugout (he complemented the interns during their on-the-dugout dance routines) between innings also entertained crowds at Goss Stadium during its four-game series in Corvallis. His off-field energy did not affect his pitching; he saved both of Kitsap's wins in that series and did not allow a baserunner in two combined innings.
Feldtman was 0-0 with a 2.57 ERA for the Pilots in 2012, with five strikeouts in seven innings over five appearances. He was a first-team all-state selection at Bainbridge in 2009 and was the team's MVP and a first-team Seattle Metro League all-star as a sophomore and a senior.
A corner infielder who graduated from Mission Hills High School in San Marcos, Calif., Lenahan (6-3, 185, L/R) hit .196 (22-112) with 11 RBIs in 37 games for the Pilots in 2012. He then played for the independent San Diego Waves in the summer and hit .342 (25-73) in 24 games, with a homer and 14 RBIs.
Lenahan was a first-team North County and Valley League all-star in 2011, when he was Mission Hills' MVP. He led San Diego County with 59 hits, 40 RBIs and a .465 average and was a third-team all-state selection as a senior.
Lucarelli (6-0, 150, R/R) hit .200 (22-110) with nine RBIs in 45 games for the Pilots in 2012. He then played for the Ports of WCL Portland and hit .319 (29-91) in 24 games, with eight RBIs.
He was an all-state selection at Enumclaw and was the 3A-South Puget Sound League MVP in 2010 and 2011. His father, Frank Lucarelli, played in the Pittsburgh organization for two years; his uncle, Vito Lucarelli, played three seasons in the Chicago White Sox organization.