Ex-Knights Lead Oregon State to Season-Ending Sweep of #5-Ranked Oregon.
May 30, 2012
Beavers Earn Postseason Berth; #2-Seed at Baton Rouge Regional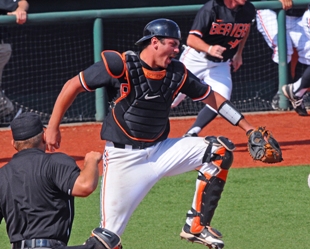 Corvallis Knights alumni helped lead the Oregon State Beavers to a three-game sweep of Oregon in last weekend's Civil War baseball series at Goss Stadium.
Former Knights' pitchers started all three games, combined for two wins and two saves, and pitched 25 of the Beaver staff's 27 innings in the 7-3, 3-2 and 5-0 decisions that prevented the Ducks from winning the Pacific-12 Conference championship.
OSU starting pitchers Ben Wetzler (2011) and Taylor Starr (2008) notched victories in Friday's opener and Sunday's finale, respectively. Reliever Scott Schultz (2011) saved those games, and catcher Ryan Gorton (2011) blocked the plate and tagged out an Oregon runner to end the game and to preserve Saturday's victory. (Ryan is pictured celebrating the final out that clinched the series win for OSU.)
Southpaw starter Jace Fry (2011) went 6.2 innings on Saturday and left with the game tied 2-2. Reliever Matt Boyd (2010) got one out and was credited with a hold before being replaced.
Designated hitter Danny Hayes (2009) also played a key role by hitting .300 (3-10) with three runs, three RBIs and a clutch two-run homer in Saturday's game.
Below is a rundown of their contributions:
* Wetzler allowed eight hits and three runs in 5.2 innings. He struck out six to improve his record to 7-2.
* Fry allowed seven hits and two runs in 6.2 innings, and had two strikeouts in a quality start. Jace finished the regular-season 5-3 with a team-low 2.48 ERA.
* Starr surrendered seven hits in 6.1 scoreless innings to win his second game over the Ducks this spring. He struck out three, and improved his record to 5-2 and lowered his ERA to 3.80.
* Schultz pitched 3.1 perfect innings and had three strikeouts to save the opener. He allowed one hit in 2.2 scoreless innings in the finale, with two strikeouts, for his second save. Over 23 relief appearances, Schultz has posted a 3-1 record and 2.93 ERA.
* Gorton was 2-for-9 as a hitter and tagged out Oregon's Aaron Payne as he tried to score from third base on a fly out to left fielder Michael Conforto with two outs in the ninth in Saturday's game. Ryan is hitting .306 with four doubles and 14 RBIs over 111 at bats.
Sophomore outfielder Connor Hofmann (2011-12) and reliever Jimmie Sherfy (2011) each played in two games for the Ducks.
#16-ranked Oregon State (38-18) earned a postseason berth and will travel to the Baton Rouge Regional. As a #2-seed, the Beavers open versus Belmont of the Atlantic Sun Conference this Friday.