Knights Bolster Front Office.
October 10, 2016
Corvallis Names Former Team Intern Eric Bober Director of Tickets and Operations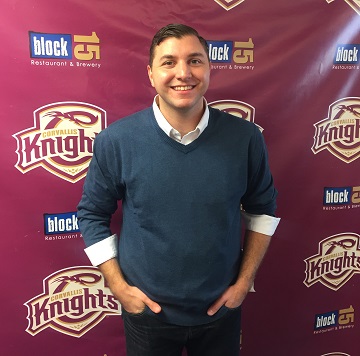 Eric Bober got a brief taste of what it was like to work for the Corvallis Knights when he served as a team intern for four months last year.
Now, the Illinois native will get the full-course meal. Bober, 27, was named as the club's new Director of Tickets and Operations on Monday by General Manager Bre Miller.
"I'm so thankful to be a part of the Knights organization," Bober said. "For me it's a privilege to work in this industry and doing something that I love.
"Corvallis has become my home and I'm so excited to work alongside Dan, Bre and Holly to help take things to the next level.
"I will bring tremendous energy and commitment to my new position and strive to give the best fans in the West Coast League premier customer service and satisfaction."
Bober grew up in the Chicago suburb of St. Charles and earned his BS in Forest and Recreation Management and his MS in Sport Management and Administration from Southern Illinois University in Carbondale.
He worked for the Knights from September through December of 2015 as an intern while completing his MA degree requirements. He handled a variety of duties in marketing, promotions, season ticket sales and renewals, ticketing, merchandise sales and other facets of the organization.
He also served as the office manager and performed daily office and secretarial duties, including answering phones, taking messages, cleaning, merchandising sales, opening and closing office space, and providing outstanding customer service.
"With his well-rounded experience, we knew he was the right addition to our team," Miller said. "We are really looking forward to giving him even more responsibility, and seeing what he can do."
Bober succeeds Colton Surcamp, a Eugene native who worked for the Knights in 2015 as an intern and as the team's Ticketing Manager and customer and office support person this past season following his graduation from Oregon State.
Surcamp recently accepted a coveted internship position in analytics with the Portland Trail Blazers of the National Basketball Association.