Drake, Perez Earn Perfect Game All-America Honors.
August 26, 2013
Drake Named Second-Team All-America, Perez Selected to Third Team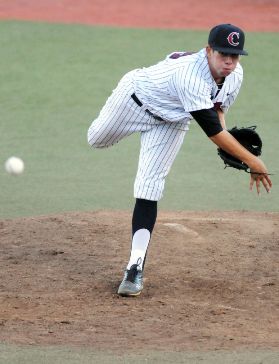 Knights' center fielder Blake Drake of Concordia and pitcher Jorge Perez of Grand Canyon (pictured pitching in game two of the WCL Championship Series at Goss) were named summer collegiate baseball All-Americans by Perfect Game Crosschecker, a national scouting service that covers summer wood-bat baseball extensively.
A rising junior at Concordia University in Portland, Drake was a second-team choice. A standout defensively, he was third on club in steals (20) and hit .291, with three homers, 14 doubles, 28 RBIs and 40 runs in WCL regular-season action. He was also named first-team All-West Coast League.
A junior-to-be at Grand Canyon University in Phoenix, Perez was a third-team selection as a relief pitcher, his role before starting two games in the playoffs. He was 1-1, 1.30, with six saves in the regular season, and then went 2-0, 1.17 in the playoffs, with a title-clinching, 2-hit shutout of Wenatchee in the WCL Championship Series.
Click here for a complete list of the 2013 Perfect Game USA summer All-America teams.
Perfect Game ranked the Knights No. 3 in its final Top 50 summer college baseball poll.