University of Oregon's Lundquist College of Business Recognizes Former Knights Intern.
December 29, 2016
Zoe Raiter Profiled as Emerging Leader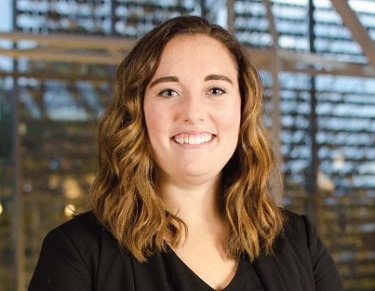 Energetic alum Zoe Raiter was recently profiled by the University of Oregon's Lundquist College of Business
as an emerging leader
.
Check out the complete story below. Congrats to Zoe, one of our leading interns last season, for being recognized by her school.
A Leader Emerged
December 20, 2016
Born and raised in Bend, Oregon, Zoe Raiter initially began her college career at Arizona State. However, she quickly realized that the University of Oregon and the Warsaw Sports Marketing Center was where she was meant to pursue her educational and career goals in sports business. "Transferring was the best decision I've made," she reflects. Raiter is currently a junior business administration major with a concentration in sports business.
Growing up playing volleyball and tennis, Raiter's passion for sports and business came together in the DECA marketing program in her high school. DECA is a program for emerging business leaders through which students develop a business plan and ultimately compete in a pitch competition against fellow DECA students. During her sophomore year Raiter ranked in the top 10 in the world in DECA's sports and entertainment category. "DECA was really the start of it. I knew immediately that business was the area I wanted to go into. I love that you not only get to work with numbers and data, but that you also get to work with different kinds of people and be creative."
Raiter is particularly interested in the area of community relations and corporate social responsibility. "I like the idea of bringing sports back into the community. Sports can change people's lives and I like to create the programs that do that."
This passion led Raiter to an internship with the Corvallis Knights this summer as their community relations director. She was in charge of coordinating community outreach events for the players and staff and also worked in game day operations. The Knights organization honored Raiter with the Holly Jones Hustle Award for her hard work and performance during her internship. The award is named after the Knights' senior vice president of operations, Holly Jones - a Warsaw Center alumna herself. "I was very honored because I really admire Holly as a leader. She is definitely a role model for me."
Raiter herself has quickly emerged as a leader among her peers, serving as the vice president of external relations for the Warsaw Sports Business Club. "Being on the Warsaw Sports Business Club's executive board has completely changed the course of my college career. I wouldn't be where I am without Warsaw Center leaders helping me when I was an underclassman, so I love the chance to encourage and help others in the club. The best part about the Warsaw Center is that everyone has a chance to reach their goals. Everyone encourages their peers to succeed."
In addition to her work on the executive board, Raiter is a member of the Alpha Kappa Psi professional business fraternity. She was recently accepted into the HDC Football Ambassador Program and will also serve as a Diamond Ducks game day marketing and operations intern during the 2017 Oregon Baseball season. Moving forward, Raiter hopes to continue to develop her leadership skills by serving on the Warsaw Sports Marketing Club's executive board for a second term in her senior year and plans to secure another internship in corporate social responsibility for either a brand or a property this summer.