Billy Clontz Returns to Corvallis as Assistant Coach.
January 4, 2013
Ex-Knights' Utility Player and Coach Back After One Season in Klamath Falls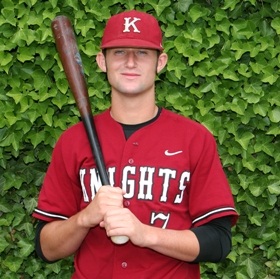 Former Knights' player and coach Billy Clontz (pictured as a player in 2006) will return to the club as an assistant coach for the 2013 season, general manager Bre Kerkvliet announced Friday. He succeeds Andy Jenkins, who left the team after the 2012 season for a volunteer assistant coaching position at Oregon State.
Clontz's return to his hometown team reunites the 2011 West Coast League championship coaching staff of Clontz, head coach Brooke Knight and pitching coach Connor Lambert.
"I am very excited to rejoin the Knights and look forward to spending the summer at home in Corvallis, with family and friends," Clontz said. "There are only a few summer baseball programs run at the same level as the Knights.
"[Team president] Dan Segel has done an amazing job in creating a positive, developmental atmosphere, with highly competitive, intellectual people. The Knights are a first-class organization."
Brooke Knight said he was thrilled to have Clontz back. Clontz played for him on the 2008 and 2009 Knights, and they coached together in 2010 and 2011.
"Billy has really grown as a coach the last two years, with time in Australia as a player/manager, in his time at Mt. Hood Community College, and with the Klamath Falls Gems" in the WCL in 2012, Knight said.
"He understands our culture and expectations. Billy also has a little 'old-school' in him, which is attractive in today's younger coaching ranks. He loves the grind, and our guys will reap the rewards of his efforts."
A native of Corvallis who starred at Corvallis High School and for the Richey's Market American Legion program before playing at Mt. Hood and Western Oregon, Clontz was a starter at several infield and outfield positions for the Knights in 2006, 2008 and 2009. He earned All-WCL honors for teams that made the WCL Championship Series in 2008 and 2009. Corvallis defeated Wenatchee in 2008 for its first WCL title, and then lost to the AppleSox in a series rematch the following year.
"Billy was a championship player and championship coach for us and we are happy to welcome him back," Kerkvliet said. "We definitely have high expectations of another WCL title this season. Billy's lucky number is 7 and it just happens to be our seventh year in Corvallis. Sounds like a win-win to me."
Following his college career, Clontz joined a coaching staff that directed the Knights to a West Division regular-season title in 2010, and to a WCL championship in 2011. He also played and coached for the Morley Eagles in Australian baseball in 2011-12.
Clontz left the team in 2012 to become the top assistant for the Klamath Falls Gems under ex-Knights' teammate Josh Hogan. They overcame a 2-18 start and fell one game short of a playoff berth in only their second year of competition.
"Billy has a great way at connecting with the players and also with the community," Kerkvliet said. "We are confident this summer will be no different."