Knights Announce 2011 Promotional Schedule.
March 16, 2011
Famous SD Chicken to Make First Appearance in Corvallis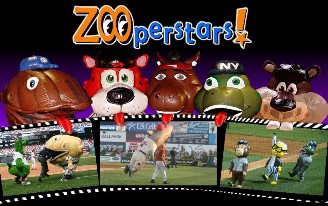 The world-famous San Diego Chicken. ZOOperstars! Block 15 Thursdays. Fireworks. The West Coast League All-Star Game.
That's just part of the promotional lineup the Corvallis Knights have planned for their fifth season at Goss Stadium, which begins June 7th when they host the expansion Klamath Falls Gems.
Highlighting the summer is the annual OSU Federal Credit Union Fireworks Night, set for July 3rd against the Bend Elks. The last two Fireworks Nights were sellouts, and the 2009 contest drew a WCL-record crowd of 3,506 fans.
Another marquee attraction is the July 26th West Coast League All-Star Game, powered by PEAK Internet. The premier players from the West and East divisions will battle for WCL bragging rights in a showdown preceded by a Home Run Derby and followed by another fireworks display.
The Famous San Diego Chicken, one of the most popular and recognizable mascots in sports, will make his first Corvallis appearance on July 16th, when the Knights host the Kelowna Falcons.
And one Knights' fan will have the chance to win $50,000 in cash on August 5th to culminate Bicoastal Media $50,000 Fridays. Every Friday, a lucky fan will have a chance to pitch for big money.
"Fireworks, the Chicken and the All-Star Game are just three of the many special events we have planned to make this our biggest and best summer in Corvallis," Knights' president Dan Segel said.
"We are dedicated to providing great entertainment and affordable family fun to fans and families throughout the mid-valley. Those three promotions are just a few of the special nights we have planned for the upcoming season."
All 31 home games have a promotional tie-in from giveaways to appearances like the Chicken and ZOOperstars! to reduced admission to special reduced concession prices, or a combination of the aforementioned.
"There's something special for everybody at the ballpark every single night, all summer long," Segel said.
Other noteworthy events include:
* A return appearance by the popular ZOOperstars (pictured) on July 22.
* Block 15 Thursdays on June 9, June 16, June 23, June 30 and July 28.
* State Farm Insurance Rally Towel Night, set for June 24.
* Two Kids $1,000 Dash for Cash Nights, on June 25 and August 6.
* Cap Night presented by the Mario Pastega House, on July 29.
* Mini-Bat Night presented by Barker Uerlings Insurance, on August 5.
* Wilson Motors Night on August 9, with free general admission tickets available at the longtime Corvallis automobile dealership.
The Knights open their fifth season in Corvallis on June 3rd at Walla Walla. They have won four consecutive WCL West Division regular-season titles.