Knights Introduce 2010 Interns.
May 12, 2010
Corvallis Adds Announcer to Broadcast Team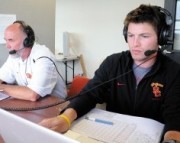 The Corvallis Knights introduced their 2010 intern team as announced by Director of Ballpark Operations Stro Strohmeyer.
This season's student interns include returnees junior Zach Baker of OSU, junior Mickey Godfrey of Oregon, senior Kellye Hildebrandt of OSU, junior Drew Olson of OSU, junior Brittany Osterhout of OSU and junior Michael Paul of Oregon.
Last summer, Baker (Medford) entertained Knights' fans as the team's on-field emcee and helped behind the scenes with video and still image production for the Goss video scoreboard. Godfrey ran the video scoreboard, Hildebrandt (Dayton) & Osterhout (Eugene) worked in guest services and Paul (Portland) labored as an assistant to the team president.
New to this year's intern team are senior Steve Farrens (Corvallis) of University of Nebraska, Kearney; junior Christy Hulegaard (Clatskanie) of OSU; junior Blaine Johnson (Portland) of OSU; junior Shelly Mirabile (Eugene) of OSU; senior Timmy Perston (Rogue River) of OSU; and junior Wes Stone (Beaverton) of OSU.
"I'm thrilled with this group," said Strohmeyer. "It's nice to have returning interns who know the program and who can lead."
"We expect our students to make it really fun at the ballpark this summer."
Interns run game day operations and gain experience in a range of disciplines from marketing to sales to event planning to media relations.
"Our interns are difference makers," said Team President Dan Segel. "They really make an impression with the fans. I'm biased, but I think we have the best interns in the league."
The team also introduced a new announcer to its broadcast team. Senior Jason Schwartz (pictured) of USC is going to join Mike Parker on the Knights' KEJO 1240 AM broadcasts as Parker's color man. Jason will also do play-by-play and will spell Parker for a few select games.
Jason was the Voice of the Wenatchee AppleSox last summer.
"I'm looking forward to calling games with Mike. Working alongside a broadcaster with his experience and accomplishments is an incredible opportunity," said Schwartz.
"The Knights are one of the league's premier organizations. I'm excited to announce games for a team with a winning tradition and great fan base."
Schwartz debuts Friday, June 4 at Kitsap as the Knights open with a three-game road series vs. the BlueJackets.
The interns' opener is Tuesday, June 15 at Goss Stadium as the Knights face their division rival the Bend Elks on Opening Night presented by the Corvallis Clinic.
Get your tickets now by emailing [email protected]
NOTE: The Knights also recently hired Brittney Belshe as an administrative intern. Belshe, a former Oregon State volleyball player, is the team's first Customer Service Manager.