Corvallis Skipper is Back; Brooke Knight to Return in 2015.
February 20, 2015
Knights' Head Coach Wraps Record Campaign in Australia with Adelaide Bite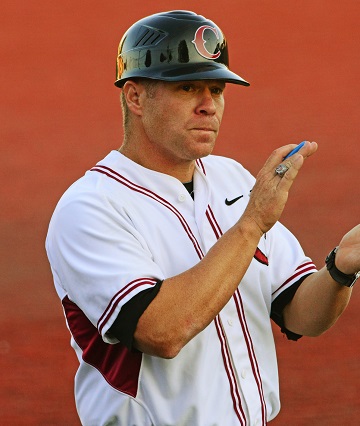 Corvallis Knights head coach Brooke Knight was denied in his quest for a third Australian Baseball League (ABL) title earlier this month when the Perth Heat defeated his Adelaide Bite 12-5 in the decisive game of the ABL's best-of-3 Championship Series.
While Knight was disappointed to fall one step short of the Claxton Shield, he had a blast coaching a group that checked its collective ego at the clubhouse door and played team baseball throughout the Down Under summer.
"It was a special year," Knight said. "We did everything we could do to create momentum, to hit our stride and put ourselves in position to win the whole thing.
"I couldn't have asked for more out of those guys. We had a lot of selfless players, and that made a big difference."
Adelaide led the ABL regular-season race wire-to-wire, finished 32-16 (.667) and captured the regular-season title by four games over Perth, earning a bye to the Championship Series. Perth then swept Sydney in the semifinals to advance to the finals.
The Bite edged Perth 3-2 in Game 1. The Heat forced a rubber match with a 5-3, 10-inning win in Game 2, and prevailed decisively in the final game.
Knight coached Perth to championships in 2012 and 2013 before temporarily retiring from the ABL. He was hired at Adelaide midway through the 2013-14 season when his predecessor struggled, and then coached them from the get-go this season.
Former Knights' catcher Rocky Gale (2007, 2009) spent the first half of the season with the Bite. He returned to the United States to prepare for spring training with the San Diego Padres; he's been invited to their major-league camp after a standout season at triple-A El Paso in 2014.
Alum pitcher Colin Feldtman (2013), who isn't in affiliated baseball in the states, stayed with the Bite the entire year.
"Rocky played great," Knight said of the former University of Portland backstop. "He can really catch, and got his bat going after a slow start," and eventually hit .267 (20-75) in 23 games, with no homers and nine RBIs.
A reliever, Feldtman was 0-0 with a 9.58 ERA in 10.1 innings in seven games, with 15 strikeouts in 10.1 innings.
"Colin threw strikes and gave us what we hoped for, a ton of energy on the bench," Knight said of the former Portland mainstay, a starter/reliever on the Knights' 2013 West Coast League championship team. "We really leaned on his enthusiasm and he played an integral role in keeping the guys in a good mindset."
Knight returned to the United States shortly after the season and will remain at his home in San Diego until late May. He'll then head north to lead the Knights' bid for their ninth consecutive division title, and for their eighth berth in the WCL's Championship Series in the past nine seasons.
Corvallis won the South Division crown in 2014 and then knocked off Bend to advance to the WCL Championship Series against Bellingham. The Bells prevailed 2-1, winning the final two games at Joe Martin Field.
"Our team looks like it will be a contender again," Knight said. "We've got some key returnees from last year and some good additions," and a solid coaching staff, as pitching coach Connor Lambert and assistant Skyler Riley are slated to return for another summer.
"I like our guys on the bump and defensively we'll be sound again. We've got speed and I always believe in using that to put the pressure on the opponent.
"It should be another exciting brand of Knights baseball again at Goss Stadium."