Dons Eager for Return Trip to Corvallis.
March 15, 2016
USF Rising Stars Grant Goodman, Riley Helland and Kyle Norman Look Forward to Summer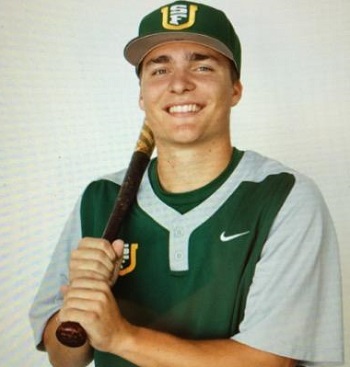 Future Corvallis Knights Kyle Norman, Grant Goodman and Riley Helland (pictured) got a small taste of their summer destination this past weekend, when their University of San Francisco Dons played a rainy series against Oregon State at Goss Stadium.
And now that they've had an appetizer, the USF trio is eager to return to the Willamette Valley for the seven-course experience, when Corvallis is warmer and drier and they're playing for the home team.
Norman is a freshman outfielder; Goodman is a redshirt sophomore and Helland is a freshman infielder/utility. They're all eager to join the Knights, thanks in part to positive comments they've heard from USF senior catcher Ryan Matranga, who primed the USF-to-Corvallis pipeline in 2015 when he joined the Knights after spending the previous summer in Kitsap.
"Ryan said the town is very cool, there are a lot of people who are welcoming, that the president [Dan Segel] is nice and that it's a place where you want to win," said Norman, a speedy 5-foot 9, 180-pounder from Ellicott City, Md., who prepped at the IMG Academy in Florida.
"That's nice because most people in summer ball just like to have fun and don't really care about the record. I definitely want to go to a team that wants to win a championship, and I've heard Corvallis is the place to do that."
Goodman is a 6-1, 180-pounder from the San Francisco suburb of Burlingame. He missed all of last season after undergoing Tommy John reconstructive elbow surgery in Feb., 2015, but he played in Bellingham in 2014 and went 2-1, 5.40 in seven games for a Bells club that edged the Knights 2-1 in the WCL Championship Series.
"I knew about the Knights," from playing for the Bells, even though he did not visit Corvallis that summer, he said. "I've always heard they are a pretty serious team, that a lot of people liked Corvallis, and that many players ended up coming back" for a second or third year.
"You get treated well, good field, people are nice and you get to play at a great facility. Ryan said it's a great experience, a great summer ball opportunity."
Helland is a third baseman/utility player from Camarillo, Calif., who played at Oaks Christian High School, one of the premier athletic programs in Southern California. He was hitting .364 (8-22) after the OSU series, with one RBI in 11 games.
"I've just been trying to keep it simple; my approach has been calm, and I've been working on my breathing with my coaches," he said. "The competition is obviously higher and the pitching is better [than high school], so that relaxation is helping me.
"If you keep everything simple, everything flows. Don't overthink, just keep it simple. Put the ball in the gaps, drive in runs, be a team guy and win games, that's the goal.
"I talked to Ryan earlier in the year," about Corvallis, he added. "He said it was a great culture to be in, the coaches and staff were great, and there was a good atmosphere, a good stadium, and a historic team."
Norman said his top asset is speed and defense, two hallmarks of previous Knights clubs. He hit .160 (4-25) with five RBIs in 2015, and is hitless in 10 at-bats this season in 14 games.
"I'm definitely a speed guy, I'm very fast," he said. "I'm a good outfielder. I usually hit leadoff, I am a good bunter, and I usually hit for average.
"After seeing [Goss Stadium], it's definitely one I want to play on. With the turf field, I can make things happen on the ground and it's easier to make diving plays in the outfield."
Goodman was 3-5, 4.55 as a true-freshman starter in 2014, with 34 strikeouts in 61 innings. He's 0-1, 7.94 in two games in 2016, with five strikeouts in 5.2 innings.
"I haven't pitched very much, coming off [Tommy John] surgery a year ago," he said. "The first weekend I pitched was one year after surgery."
He didn't throw against the Beavers after experiencing some slight irritation after his previous outing. When he does, he mixes a fastball, curveball and changeup.
"I haven't been able to throw any curveballs yet, but in the next couple weeks I'll start throwing them again," he said. "By summer [his curveball] will be back."
Goodman said the fact he's a redshirt-junior-to-be in a freshman-oriented league he's already played in will be helpful this summer.
"I will probably be one of the older kids on the team," he explained. "Veteran leadership is what college is about, knowing how to attack hitters and things like that instead of just being a thrower. I'll try and teach some of the younger guys."