Knights to Feature Three OSU Frosh Pitchers.
January 30, 2012
Corvallis Counting on McCall, Rodriguez and Tripp to Shine in Summer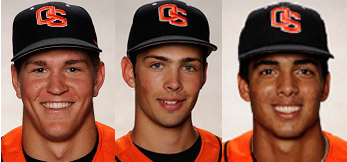 Their spring workload will help determine the role Oregon State freshmen pitchers Carlos Rodriguez (pictured, right), Michael McCall (pictured, middle) and Mitchell Tripp (pictured, left) will play for the Corvallis Knights this summer.
If the talented trio piles up a lot of innings for the Beavers, their summer workload will be curtailed and they'll primarily be used in a relief role.
Conversely, if they don't pitch much, they could become starters and get stretched during the West Coast League season.
"We have a formula we've worked hard to put in place," OSU pitching coach Nate Yeskie said. "We feel we've created balance.
"If they need a certain amount of innings, we try to suggest to Brooke to keep them within the confines" of those guidelines. "We've found that's really starting to benefit kids coming back, having a successful fall and carrying that over to spring."
Rodriguez, Tripp and McCall are the latest in a long line of OSU pitchers who've summered with the Knights. The list reads like a who's who of Beaver greats. Current/former pros Kevin Gunderson, Daniel Turpen, Josh Osich, Sam Gaviglio, James Nygren and Greg Peavey; MLB draftees Taylor Starr, Ben Wetzler, Adam Duke and Jace Fry and probable future selection Matt Boyd all did the Beavers/Knights double.
"The Knights have been a great resource for us" in following OSU's development plan, Yeskie said. "We want kids who compete, who develop, and who want to win championships; that mimics what the Knights are trying to do.
"(Knights baseball) is a minor league-type experience. It's great to be able to branch out a little bit but not have it be so inundating from a time aspect" as some other summer leagues that have much longer road trips.
"It's a great balance."
Tripp is a 6-foot-1, 195-pound righty from Meridian High School (Bellingham, Wash.). He was an all-conference performer as a senior, junior and sophomore, and was a All-Whatcom County selection in 2011.
"He's been a worker," Yeskie said. "He has a pretty good sinking fastball. His breaking ball is a work in progress and his change is a decent offering at times.
"Hopefully he'll be able to contribute; in what role, I don't know right now. He shows the stuff to be able to start, and he could be a long-relief guy."
McCall is a 6-2, 173-pounder from Gig Harbor (Wash.) High, the alma mater of 2011 Knights and OSU teammate Scott Schultz. He was ranked as the No. 11 in-state prospect by Perfect Game USA before his senior season, when he earned all-conference honors.
"He's making great strides of late. He's extremely competitive and he really understands what it is to move the ball around and change speeds," Yeskie said. "He (has) three different breaking balls and he's trying to harness one.
"With that much diversity it's hard to (find one) he can repeat time after time. That will be point of focus for him this summer if he doesn't harness it this spring.
"He can fill many roles for us. He had a tremendous high school career. He's a premium strike thrower," and he should blossom in summer ball against opponents using wood bats.
Rodriguez was selected by Atlanta in the 20th round of the 2011 MLB draft after an outstanding career at the 'Iolani School in Honolulu, but he didn't sign and instead played for the San Luis Obispo Blues in the California Collegiate League.
"He has huge stuff," Yeskie said of the 6-2, 198-pound lefty. "We're looking for him to get comfortable; I'm not quite sure he knows what he's capable of quite yet. I don't think he's hit his stride."
Rodriguez was 2-0 with a 3.90 ERA in 30 innings with the Blues, one of the CCL's stronger franchises. He was a third-team all-star, and rated as the league's No. 9 pitching prospect by the Summer Ball website.
"He's familiar with pitching against wood bats," Yeskie said. "The Blues were a good program, and he's already pitched against college guys," which should be a big plus for the Knights.
"He might be somebody like Osich or Starr," a top starter and the closer, respectively, for the 2008 WCL-champion Knights. "They had limited work (at OSU) as freshmen, and the summer ended up being a springboard that thrust them into a position where they understood what they are capable of."