Knights Announce Final 2012 Roster.
December 15, 2011
Recruiting Wraps with Signing of Pitchers Dylan Stuart of UC Riverside and Aaron Corwin of Texas Tech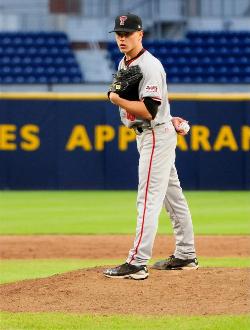 The Corvallis Knights have won five consecutive West Division championships since relocating to Goss Stadium from Gresham for the 2007 season. Manager Brooke Knight sees no reason why that pattern shouldn't continue in 2012.
The reigning West Coast League manager of the year expects the Knights to contend for title No. 6, and position themselves to successfully defend the WCL crown they captured last August by sweeping Walla Walla in the WCL Championship Series.
"We are really excited about our 2012 roster," said Knight, who is presently managing the first-place Perth Heat in the Australian Baseball League. "The (2012) club brings a nice balance of returning players, along with some new, younger talent that should create an immediate impact in the WCL."
The Knights begin Season 6 in Corvallis on June 1 with a three-game series at Borleske Stadium in Walla Walla in a rematch of the 2011 WCL finals. Their home opener is June 5 against the Klamath Falls Gems.
The draft, academics, injuries or other concerns could impact the projected 36-man roster Knight has assembled over the past months. But as it stands now, pitching again should be the team's cornerstone.
The Knights return pitching coach Connor Lambert and six members of the 2011 staff, which led the WCL in ERA (2.47) and set a league strikeout record (401). Starters Chris Johnson, Max Beatty, Dylan Stuart and Kyle Hart; closer Mark Trentacosta, and versatile starter/reliever Chris Mendoza will spend another summer in Corvallis.
Johnson, Beatty, Stuart and Trentacosta each earned 2011 WCL all-star honors. Aaron Corwin (pictured), a member of the 2010 West Division championship club, is also back after a one-year hiatus.
"To have those guys back for next summer is very exciting," Lambert said. "They give us a nucleus that has a real chance to compete at a high level. I'm really excited to see these guys come June."
Also returning from the 2011 champions are catcher Dane Lund; infielders Alex Foulon and Nate Roberts, and outfielders Matt Nylen, Nate Blackham, Cade Gotta and Connor Hofmann.
"We have a few returning arms we will count on to anchor our staff, along with some key returning position players to provide us with some continuity defensively and at the plate," Knight said.
Players from traditional partner schools Oregon State, Oregon, Washington State, UC Irvine, UC Riverside, Cal Poly, Portland, Mt. Hood CC and Riverside CC will comprise the bulk of the roster. However, this summer the Knights will welcome three players from the University of Texas and two from UC Santa Barbara, their new partner schools, and their first recruits from Youngstown State and Grand Canyon University.
The 2011 Knights took some time to gel but once the pieces fell into place they were unstoppable. They won their final 11 regular-season and playoff series, were 30-6 in their final 36 games and did not lose back-to-back games during that span.
They won the West Division regular-season title by eight games over Bend, and then eliminated the Elks and Sweets in the playoffs to capture their first WCL championship since 2008.
Knight said there's no reason to aim any lower in 2012.
"Every year it seems that we try to set the bar just a little higher regarding the caliber of player we invite to be a part of the Knight family," he said. "This year is no exception.
"I am excited to see how this club performs this coming summer and I can't wait for June 1 to get here."
Some additional 10-day signings may be announced, but here is the projected 2012 roster:
PITCHERS: Bryan Granger (Cal Poly); Greg Mahle (UCSB); Zach Manley (Linfield); Mitchell Tripp (Oregon State); Jorge Perez (Grand Canyon); Max Beatty (PLU); Chris Johnson (Portland); Kyle Hart (Redlands); Dylan Stuart (UC Riverside); Michael McCall (Oregon State); Justin Fischer (UCSB); Justin Peters (Texas); Trevor Teykl (Texas); Mark Trentacosta (UC Irvine); Chris Mendoza (Santa Clara); Cody Dill (UC Riverside); Aaron Corwin (Texas Tech); Carlos Rodriguez (Oregon State); Antonio Gonzales (UC Riverside).
CATCHERS: Nate Esposito (Oregon State); Dane Lund (Mt. Hood); Austin Barr (Camas, Wash.; Stanford commit).
INFIELDERS: Chris Rabago (UC Irvine); Caleb Whalen (Portland); Jack Graham (Youngstown State); Nate Roberts (Seattle); Nick Torres (Cal Poly); Alex Foulon (Mt. Hood); Alex Silver (Texas); Zach Green (Oregon State signee).
OUTFIELDERS: Jacob Hoffman (PLU); Nate Blackham (Washington State); Connor Hofmann (Oregon); Matt Nylen (Western Oregon); Cade Gotta (Riverside CC); Alex Michaels (Cal Poly).
10-DAY SIGNEES: P Chris Bishop (PLU); P Mike Massari (Redlands); INF Austin Hamilton (Linn-Benton CC); 1B Ryan Plantier (Cornell); OF Caylen Clardy (College of the Siskyous); OF Tristen Metcalf (Mt. Hood CC).