Corvallis Adds University of Texas to List of Partner Schools.
September 16, 2011
Knights Sign Three Longhorns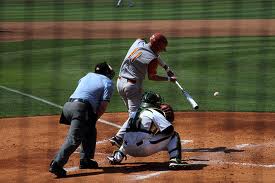 The eyes of Texas baseball will be on the Corvallis Knights next summer.
Three players from the University of Texas - a six-time College World Series champion and perennial contender for the national title - have signed with the Knights to help Corvallis defend their West Coast League title in 2012.
The newest additions are right-handed pitchers Justin Peters and Trevor Teykl and infielder Alex Silver (pictured). All three are sophomores who grew up in the Houston area.
The Austin-to-Corvallis connection was forged by former Knights' second baseman Robby Hudson, a two-time Longhorn letterman who now works for the Texas athletic department after retiring from professional baseball this past summer.
Hudson played for the Knights in 2003 and 2004 and at Texas in 2004 and 2005, and was a key member of the Knights' 2004 National Baseball Congress and the Longhorns' 2005 NCAA championship teams.
"We are very excited about our new partnership with one of the most storied and successful programs in college baseball history," Knights' president Dan Segel said in announcing the signings. "Huddy was instrumental in connecting us with the Texas staff and starting this partnership.
"We have always admired coach Augie Garrido's task-oriented philosophy, and we implemented many of his principles after watching him deliver a presentation at an American Baseball Coaches Association convention about ten years ago.
"Texas's consistent success on the diamond validates that approach. Implementing many of its practices has helped us become one of the West Coast League's most successful franchises.
"We appreciate Coach Garrido and Coach Bishop (Texas assistant) taking a chance on us."
The Longhorns have advanced to the College World Series in Omaha 34 times, most recently in 2011. Their 34 appearances and 82 CWS victories are the most by any school.
Alex Silver (6-1, 195 pounds) hit .172 (5-29) in 12 games as a freshman in 2011 and was featured as an "Athlete of the Week" by College Pressbox (click here to watch).
Silver was diagnosed with Hodgkin's Lymphoma disease last spring and returned to play as soon as he completed chemotherapy.
A four-year letterman at Bellaire High School in Houston, Alex was a first-team district all-star as a senior, junior and sophomore and was a preseason Louisville Slugger All-American, Rawlings Preseason All-American, preseason All-Greater Houston as a senior, and a Texas High School Baseball Coaches Association all-state selection in 2009 and 2010.
A native of Sugar Land, Teykl (6-7, 215 pounds) was drafted by the Texas Rangers in the 50th round in 2010 after earning three letters at Kempner High. He did not appear in a game at Texas in 2011 and played for the LaCrosse Loggers of the Northwoods League last summer.
Teykl was a Rawlings third-team Preseason All-American, a first-team District 23-5A all-star and a third-team All-Houston all-star as a senior. He was also third-team All-Houston and a member of the Texas Rangers Area Code Team as a junior, and a member of Sunbelt Team Texas as a junior and sophomore.
Justin Peters (6-4, 190 pounds) was a neighbor of former MLB star Andy Pettitte in Houston and was second-team all-district at Deer Park High in 2010. He was 2-1, with 28 strikeouts in 41 innings at Weatherford (Texas) JC in 2011 before transferring to Texas.
Texas joins Oregon State, Oregon, Portland, Washington State, UC Riverside, UC Irvine, Cal Poly, Pacific Lutheran, Riverside (CA) CC and Mt. Hood CC as a Knights' partner school.
The Knights are also in conversations about a possible partnership with UC Santa Barbara. New head coach Andrew Checketts, new pitching coach Jason Hawkins and new assistant coach Eddie Cornejo have all either played or coached with the Knights.