Corvallis Signs Blake Drake of Concordia University.
April 3, 2013
Sophomore Slated to Roam Center Field at Goss Stadium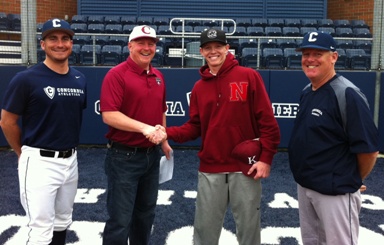 The Corvallis Knights signed Concordia sophomore center fielder Blake Drake of Ramona, California on Wednesday, April 3rd at Hilken Community Stadium in NE Portland. (Pictured from left to right are Concordia assistant coach and former Corvallis Knight Braden Wells, Knights' president Dan Segel, Drake and Cavaliers' head coach Rob Vance.)
Drake leads the Cavs in hitting with a .361 batting average, at bats with 133, hits with 48, runs with 24 and stolen bases with 15.
Wells, an exceptional outfielder who patrolled center for the Knights in 2007, is high on Drake. "(Knights) fans will love how he plays the outfield," said the OSU Beaver alum. "He can really play out there and is a special defender and great kid."
Concordia and the Knights have a long history as partners. Coach Vance has placed an impressive list of extraordinary players with the Knights since 2002.
The Knights first Cav was starting pitcher Michael Devaney who pitched two summers with the team. Michael earned second-team All-Pacific Interntional League honors in 2002 (3-2, 4.05, 3 svs) and first-team honors in 2003 (5-4, 1.75, 5 CG). Devo tossed a complete-game shutout in the 2003 Kamloops International Baseball Tournament vs. the San Diego Stars and would later pitch professionally in the New York Mets organization.
In 2004, the Knights welcomed Concordia's Aaron Coiteux to the club. And Aaron did not disappoint, as the second baseman led the Knights to a summer national championship, earned Pacific International League MVP honors and turned in arguably the best offensive and defensive season in franchise history.
Coiteux was the heart and soul of the Knights' NBC World Series title team that beat the Mat-su Miners of the Alaska League in the NBC championship game 7-0 in Wichita, Kansas. For the season, Aaron led the team in an amazing twelve offensive categories: batting average (.387), at bats (199), runs (47), hits (77), doubles (18), triples (3), RBI (37), total bases (104), slugging (.523), HBP (22), OBP (.500) and stolen bases (20).
Aaron is currently the head baseball coach at Mountain View High School in Vancouver, Washington.
CU catcher Adam Hackstedt followed Coiteux in 2005 and caught future big leaguers Tommy Hanson of the Angels and Bud Norris of the Astros. Hack earned second-team All-West Coast Collegiate Basebal League (.311, 6 doubles, 12 RBI) and WCCBL Rawlings Gold Glove honors. Adam would later play professionally in the Chicago Cubs organization and is now a police officer in Albany and Corvallis Knights fan.
The inaugural Concordia Corvallis Knight regular was relief pitcher Ben Rue (4-2, 2.70) who was a key contributor on the Knights 2008 WCCBL championship club.
And in 2011, Concordia first baseman Sean Myrom (.272, 14 doubles, 2 HR, 19 RBI) led Corvallis to its second West Coast League crown and won the WCL All-Star Game Home Run Derby in front of the home fans at Goss Stadium.