Knights' Utility Man Nick Madrigal Earns First-Team All-WCL Honors.
August 27, 2015
Closer Harrison McGhee of Concordia Named Second-Team All-WCL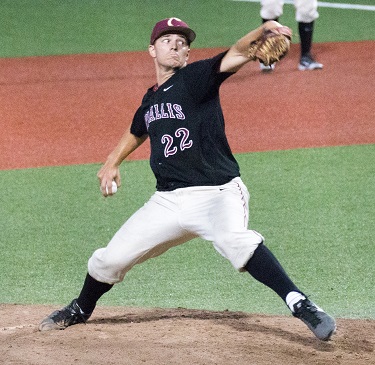 Middle infielder/outfielder Nick Madrigal was named to the first-team and reliever Harrison McGhee (pictured) was named to the second-team on Thursday when the West Coast League announced its 2015 all-league teams and top awards.
Seven more Knights earned honorable mention. Former Knights' player and assistant coach Billy Clontz was named the Coach of the Year after leading the Kelowna Falcons to the WCL Championship Series for the first time in franchise history.
An incoming freshman at Oregon State from Elk Grove, Calif., Madrigal hit .303 (54-178), with no homers and 20 RBIs, in 44 games as a shortstop, second baseman and outfielder. He established a league and team record with 40 stolen bases, and led the team in base hits.
A redshirt junior-to-be at Concordia University, McGhee was 1-0 with eight saves and a 0.98 ERA, both team-leading marks. He had 23 strikeouts in 18.1 innings over 14 games.
Clontz played for the Knights in 2006 and 2008-2009 and assisted head coach Brooke Knight from 2010-2011 and 2013. In his second year as Kelowna's head coach, he directed the Falcons to the East Division title and then to a divisional playoff victory over defending champion Bellingham. They improved to 34-19 from 14-39 in Clontz's first year.
Outfielder Emilio Alcantar (Linn-Benton CC), pitchers Chris Clements (UC Santa Barbara), Dakody Clemmer (Central Arizona College), Slater Lee (Cal Poly) and Cory Nelson (Pacific Lutheran), catcher Ryan Matranga (San Francisco) and corner infielder Michael Farris (UC Riverside) all earned honorable mention all-league.
Alcantar led the Knights with a .329 (53-161) average in 47 games, and led the team in RBIs (28). He was second in base hits (53) and stolen bases (26) after joining the team as a 10-day signee from Linn-Benton Community College. He will play for NAIA powerhouse Lewis-Clark State in 2015-2016.
Farris hit .258 (39-151) in 44 games, with a team-leading five homers and 27 RBIs, second-best on the team. Matranga hit .230 (32-139) in 45 games, with a homer and 12 RBIs.
Another 10-day signee who earned a full-time position, Nelson was 3-1 with a 2.60 ERA with 24 strikeouts in 48.1 innings, the second-most on the team.
Clements was 2-2, 1.71 in nine games, with 25 strikeouts in 36.2 innings.
Clemmer went 3-1, 2.98 in 14 games, with two saves and 33 strikeouts in a team-leading 51.1 innings.
Lee was 2-1, 2.56 in nine games, with 37 strikeouts in 45.2 innings. Clemmer and Lee shared WCL Player of the Week honors for July 6-12 for throwing back-to-back, 1-0 shutouts against Kitsap on July 9-10 at Goss Stadium. Slater was the Knights' lone WCL All-Star Game selection and the junior-to-be was the WCL ASG starting pitcher for the South.
To check out the complete all-WCL teams and WCL year-end awards, please click here.