Corvallis Bolsters Coaching Lineup for 2016.
September 15, 2015
Knights Add Alum Kevin Gunderson to Staff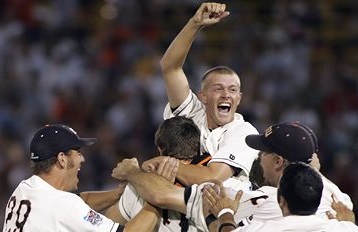 Corvallis team president Dan Segel announced that the Knights have signed on Kevin Gunderson to coach in 2016 and also assist the club with baseball community relations effective immediately.
Gunderson (pictured after the final out of the 2006 College World Series), a former Knights' pitcher, will join the team's 2016 coaching staff that features the West Coast League's most tenured skipper Brooke Knight and associate head coach Connor Lambert.
Both Knight and Lambert are returning with Lambert - currently the director of baseball operations at University of Utah - continuing as the club's pitching coach and acting as the team's associate head coach for the first time after five successful seasons as a Knights' assistant.
Gunderson, who pitched at Oregon State from 2004-2006 and in the Atlanta Braves organization from 2006-2009 (reaching as high as Triple-A), brings a wealth of pitching knowledge to Corvallis as well as public relations skills that will be leveraged in the baseball community as the Knights work hard to perpetuate the game and share best-of-breed development philosophies.
"It's with great pride and enthusiasm we announce the addition of Kevin Gunderson to the team," said Segel. "We believe Gundy's maturity and style are going to add great value to our organization. He's going to help us get better on multiple fronts.
"And it's exciting that we can play a part in his development and that we can offer our kids even more through his mentorship."
Gunderson is very familiar with the Knights' organization as he pitched for the then Aloha Knights in the 2004 NBC World Series where he earned his first national title, as the Knights beat the Mat-su Miners of the Alaska Baseball League in the NBC championship game at Lawrence-Dumont Stadium in Wichita, Kansas.
He would later close out the 2006 College World Series for the national champion Oregon State Beavers as OSU beat North Carolina at Rosenblatt Stadium in Omaha, Nebraska. Kevin's dream junior season, in which he led the nation in saves with 20, culminated with a dogpile in Omaha and with the southpaw from Portland, Oregon signing with the Atlanta Braves after being selected in the 5th round of the 2006 MLB June draft.
Since he retired from professional baseball, Kevin has been teaching the game to youth players of all ages first at Metro Baseball Academy and now as a pitching coach at West Linn High School and as the operator of his own youth instructional company Elite Pitching Northwest.
He has developed young pitchers from 2015 Little League World Series star lefty Dylan MacLean of the Northwest Region to West Linn High senior Karsen Lindell who signed with the Milwaukee Brewers after being selected in the 9th round of the 2015 June MLB draft.
Kevin is well versed in summer collegiate baseball as he spent his frosh summer pitching for the Torrington Twisters of the New England Collegiate Baseball League and with the Knights at the 70th NBC World Series. And he pitched for Team USA the summer following his sophomore year at OSU.
Gunderson will begin his college coaching career this upcoming summer in Corvallis. In the meantime, he will continue as an assistant coach at West Linn, assist with community relations with the Knights and service his Elite Pitching Northwest clients.
"I want to thank Dan and his coaching staff for this incredible opportunity. The Corvallis Knights are a first-class organization and I am beyond ecstatic to be a part of it all. I look forward to coaching alongside Brooke and Connor and I am excited to return to Corvallis, where I have so many fond memories," said Kevin Gunderson.
A graduate of Oregon State (BS in Sociology), Kevin lives in Happy Valley, Oregon with his wife Brynn and young sons Carter and Maddox. Kevin's uncle Eric Gunderson - a Knights' alum and former big league pitcher - sits on the Knights Baseball Club, Inc. board of directors.