Bre Kerkvliet Named Staff Member of the Year.
November 14, 2011
Assistant GM Exceeds All Marks; Knights Win Title and Break Attendance Records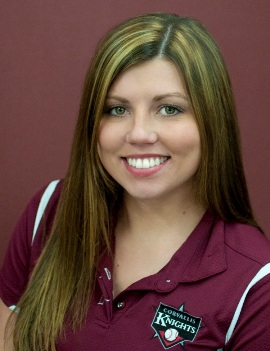 Assistant General Manager Bre Kerkvliet (pictured) was named Corvallis Knights Staff Member of the Year as announced by Team President Dan Segel this morning.
Kerkvliet, 26, started with the Knights as an intern in 2007, their first season in Corvallis.
She earned a full-time position with the team as the club's Director of Business Development in 2010, and became Assistant General Manager in 2011.
"Bre was one of the driving factors in significantly increasing our business revenue from the previous season, and she has been a wonderful ambassador for the Knights through Rotary and the many other community groups she belongs to," Segel said. "She has tremendous enthusiasm, works hard and is fully committed to making the Knights a summer institution in the Mid-Valley.
"She is thriving in her leadership role."
Bre is a graduate of Corvallis High School and Oregon State.
"I appreciate the recognition but any member of our staff could have won this award," Kerkvliet said. "I am thankful to have a job that challenges me to be better every day and is also very rewarding.
"Go Knights!"
Kerkvliet joins previous honorees Doug Blair (2010), Brian Brooks (2009), Stro Strohmeyer (2008) and Holly Jones (2007) as Staff Member of the Year selections.