Former Knights' Workhorse Max Beatty Awaits Padres Assignment.
March 15, 2014
Max Enters Year Two of Pro Ball Healthy and Enthused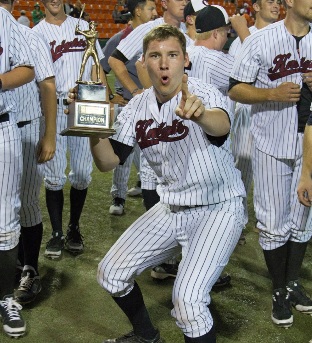 Max Beatty (pictured following the Knights' 2011 WCL title clincher at Goss) doesn't care which team the San Diego Padres assign him to this season. What matters is, he's 100 percent, healthy, and still has a uniform on his back.
What's written on the front of that uniform - Eugene, Fort Wayne, Lake Elsinore - will be determined in spring training, which for Beatty began on Feb. 28 in the Padres' brand-new complex in the west Phoenix suburb of Peoria. Ariz.
"That's something I'm not even looking into or worried about right now," Beatty replied, when asked which rung of San Diego's minor-league ladder he hoped to reach this season. "My main focus is going into spring training in the best shape I can, and being ready to perform right away.
"My arm feels great, better than ever before, and these off-seasons really get you missing the game again. I mean it's about 5-to-6 months off! I'm ready for some baseball!!"
After a standout career at Pacific Lutheran, where he played for former Knights' player and head coach Geoff Loomis, the Vancouver, Wash., native was selected in the 32nd round by the Padres as the 958th pick in the 2013 draft and began his pro career shortly thereafter.
He played with the Arizona Rookie League Padres and with the Eugene Emeralds in the short-season Northwest League last summer and was a combined 1-2, 5.22 in 21 games, with 27 strikeouts and just eight walks in 29.1 innings. Take away one bad relief outing in Eugene, where he gave up six runs in less than an inning, and it was an outstanding professional debut.
"It went well," said Beatty, who turns 23 years old on March 27. "It was good to get a feel for things in that first year, and just learn as much as I could in the short season I had so I could be as ready as possible when showing up for my first spring training.
"I am so excited to spend a full season with the team. Coming in last year after the draft, I was able to get the hang of things and kind of feel my way into the new transition that was professional baseball.
"Even the short season I had last year seemed like a long one, so I also know I must prepare my body and be ready for an even longer grind this year."
Beatty said he thoroughly enjoyed professional baseball and is hoping his first season will be one of many.
"From the rookie league level, to the thought of getting 'called up' to another team any day...it's a process that can keep you excited and hungry for more," he said. "It's a great environment to push yourself, and also work with all the great coaches and trainers they provide to better yourself each and every day."
The biggest adjustment was learning how to take care of his body every day, and learning how to grind through six or seven games a week for an extended period.
"As a pitcher, obviously my arm is the most important thing, but keeping your body healthy and being ready every day takes the right process," he said. "Last season was good because I got a routine/process that worked and kept me going every day.
"The grind is real. You have to be ready for it physically and mentally."
With road trips, hotel stays, five or six games a week, a host family and no schoolwork to do, his summers with the Knights essentially mirrored the lifestyle of a short-season minor-leaguer, so he wasn't caught off-guard by moving up to the pros.
"The Knights were great because playing for them was really a grind as well, with the everyday kind of stuff and the traveling," he said. "I am so grateful I was a part of that for three years. It plays a huge part of where I am today."
And most importantly, he's completely healthy. Beatty no longer worries about the now-vanquished cancer that forced him to miss the 2012 college season and probably delayed his pro baseball career by one year.
"It's never really been something that's on my mind," he said. "Usually it was just stuff I had to get done and clear with all the docs and whatnot. It's just something I'll be glad to just not have to worry about anymore."