Knights' Pitcher Eric Young of Delaware Earns First DI Win.
February 27, 2011
Beats #9 Ranked Arizona State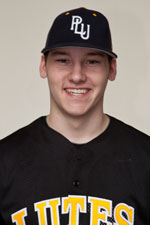 Corvallis Knights right-hander Eric Young of University of Delaware earned his first Blue Hens win by beating the mighty Arizona State Sun Devils at Packard Stadium in Tempe, Arizona this past Friday night.
Young tossed five innings and only allowed one earned run in his second start with Delaware.
The Blue Hens 7-3 win at ASU handed the Sun Devils their first loss of the 2011 campaign.
Eric is returning for a third summer with the Knights. Following his freshman and sophomore seasons at Riverside CC, he accelerated his development in Corvallis.
Last summer, Young emerged as a key contributor out of pitching coach Ryan Wing's bullpen.
The junior pitcher made 14 WCL appearances and posted a 1.52 ERA while striking out 22 over 23 2/3 innings pitched.
Joining Young as a returnee this summer is Max Beatty (pictured) of Pacific Lutheran University.
The sophomore from Vancouver, Washington is 2-0 to start the spring and has not allowed an earned run over 14 innings pitched while holding the opposition to a paltry .170 batting average.
Beatty, who pitches for former Knights' skipper Geoff Loomis (2000-2005) at PLU, was the Northwest Conference's first Pitcher of the Week selection of the 2011 season.
Max went 2-0 with a 3.86 ERA last summer for the Knights.
Young and Beatty will be counted on with fellow returnee pitchers redshirt junior Nick Hoover of UC Irvine, sophomore Mitch Patito of UC Riverside and sophomore Chris Mendoza of Santa Clara to lead the Knights' 2011 staff.
Hoover, like Young, is returning for his third season with Corvallis.
Nick has made three relief appearances this spring for the undefeated and 26th-ranked Anteaters (6-0) and has struck out 6 over 3 1/3 innings pitched while posting a 2.70 ERA.
Hoover was stellar as a reliever and starter last season for the Knights going 2-1 while posting a 2.63 ERA and striking out 34 over 27 1/3 WCL innings pitched.
Patito, a second-team All-WCL relief pitcher selection in 2010, is expected to start for Corvallis in 2011. Mitch has registered three saves over four appearances this spring with the Highlanders (4-4). Patito recorded a team-high 8 saves with the Knights last summer.
Mendoza's first start of the 2011 spring was at defending national champion South Carolina. Chris pitched 5 innings, allowed three runs and took the loss as the Gamecocks topped the Broncos 6-0.
This afternoon, Mendoza earned his first win of the spring tossing six solid innings allowing only one hit and a run as Santa Clara beat Albany 9-4 to improve its record to 4-3.
Last summer, Mendoza went 3-2 with a 3.77 ERA over 11 WCL appearances, 7 starts and 45 1/3 innings pitched (second most WCL innings on the Knights' staff).