Billy Clontz to Start Coaching Career with Knights.
March 1, 2010
Pride of Corvallis Returns for Fifth Season with Team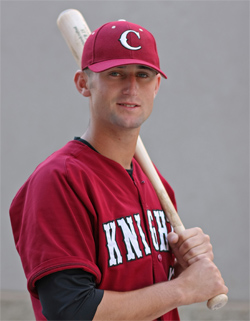 The Pride of Corvallis - Billy Clontz of Western Oregon University - is returning to his hometown, and to the Knights for a fifth season this summer, this time as a coach not a player.
Clontz (pictured) is currently a senior at WOU and a team leader on the Wolves baseball team.
Following his final spring season, Billy will join the Knights as a member of head coach Brooke Knight's coaching staff. Clontz will also be assigned facility and clubhouse duties.
"We're excited to have Bill back," said team president Dan Segel. "No one knows the program and Corvallis better than Billy. He's raring to go, and looking forward to sharing experiences, helping develop student-athletes and accelerating the team gelling process."
Coach Clontz joins pitching coach Ryan Wing, hitting instructor Travis Hanson and assistant coach Bobby Burk on Coach Knight's staff.
Billy first donned a Knights' uniform in 2006 for the then Aloha Knights. He's been with the team ever since the club relocated to Corvallis.
The versatile player from Corvallis High School led the 2008 Knights to a West Coast League title, earned second-team All-West Coast League honors and hit .267 with 8 doubles, 30 runs, 24 RBI and a team-leading 202 at bats.
Clontz played for ex-Knights' coaches Dale Stebbins, Gabe Sandy and Matt Dorey both at Mt. Hood CC and with the Knights.
He's played at Western Oregon the past two springs.