Knights' Alum Cade Gotta Enjoys Monster Senior Season.
May 25, 2014
Gotta Leads San Diego Christian College to NAIA World Series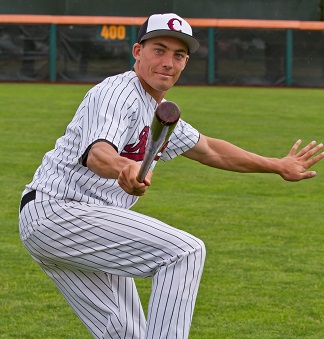 If this spring marks the end of the line for Cade Gotta's organized baseball career - and there's a very good chance it won't - at least the senior outfielder from San Diego Christian College will have gone out in a blaze of glory.
The 22-year-old from Solano Beach, Calif., who helped power the 2011 Corvallis Knights to the West Coast League championship, had a senior season for the ages for the eighth-ranked Hawks, who played in the NAIA World Series this weekend in Lewiston, Idaho (they were eliminated yesterday).
Gotta hit .407 (88-216) in 59 games, with 14 doubles, seven triples, 11 homers and 38 RBIs in the regular season and regional playoffs. He walked 52 times and was hit by a pitch six other times to compile an astronomical .553 on-base percentage. He stole 42 bases in 55 attempts, scored 73 runs and had a .690 slugging percentage.
His monster year did not go unnoticed, as he earned Golden State Athletic Conference Player of the Year and first-team GSAC all-star honors. He also made the Gold Glove team, as he fielded .995, with five assists and just one error in 198 total chances.
"I think the year I had has helped my chances at professional baseball," he said. "But it's hard to say for sure and ultimately I can't control what happens in the draft," which this year is set for June 5-7 in New York City.
"I really want to play professional baseball. That has been my dream since I could walk, and the fact that that dream is still alive just motivates me even more.
"Baseball is my favorite thing to do. To be able to play it for a living would be amazing."
Cade was not drafted following his junior year, despite putting up some impressive numbers as a part-time player. Gotta hit .406 (41-101) with two homers and 28 RBIs, but he only appeared in 29 of SDCC's 59 games.
He wanted more in what he knew could be his final season of organized baseball. So he decided to become a more unselfish player, and worry more about the team than his individual numbers.
"I decided to play every game with the intent to win and have fun instead of focusing on personal statistics," he said. "This new approach has definitely worked for me.
"My power numbers have improved the most since my junior year, going from two to 11 home runs. I would attribute that mostly to a good offseason in the weight room. I'm stronger than ever and it seems to have translated well to success at the plate."
Gotta joined the 2011 Knights in early July after his freshman season at Riverside City College and quickly established himself as the starting right fielder. He hit .342 in 27 total games, with a homer and eight RBIs, and became a crowd favorite for his all-out, intense style and rocket arm.
He really broke out in the playoffs, when he hit .353 (6-17) in five playoff games, with five runs, four RBIs, a double, a triple, four walks and three stolen bases. He was 4-for-4 with the two extra-base hits in a 14-3 win at Walla Walla in Game 1 of the Championship Series, when the Knights set the tone for a series they would win with an 11-4 rout in Game 2 two days later.
"It was an amazing experience for me," he said. "other than winning the WCL championship, the thing I remember most about playing for the Knights is the atmosphere of the WCL.
"Coming from junior college, I had never played at awesome stadiums in front of awesome fans like the ones in the WCL. The treatment we received from the Knights was phenomenal too, from the great host family I had (Mike & Kerry Denison) to the pregame meals."
Gotta is one semester away from graduating with a business degree. He hopes to be in professional baseball at this time next year, but if he's not, he still won't be far from a diamond somewhere.
"If playing baseball doesn't work out, I plan to coach," he said. "I want to spend every day for the rest of my life on a baseball field."