Andriese Brothers Reunite in Oregon.
July 14, 2011
Matt Pitches in Eugene for Ems; David Returns to Knights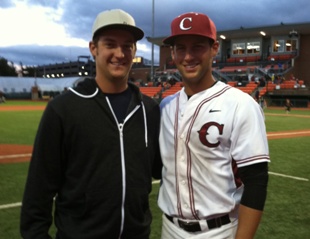 Playing professional baseball has been the realization of a lifelong dream for former Corvallis Knights pitcher Matt Andriese.
Starting his career with the Eugene Emeralds - a mere 45 miles away from the summer home of his younger brother and best friend, Knights' outfielder David Andriese of UC Riverside - is an added bonus.
"It's fun being in Eugene, and being close to Corvallis," Andriese said Tuesday during a visit to Goss Stadium on a rare off-day for the Emeralds, San Diego's affiliate in the short-season Class A Northwest League.
"It's also good for my parents," Greg and Lynn Andriese of Redlands. California. "It's exciting for them. They can come up here and watch us both on the same trip," which is exactly how they spent this past week.
Matt was the West Coast League Pitcher of the Year in 2009 while playing for the Knights after his freshman year at UC Riverside. He was 7-0 with a 1.38 ERA, and helped lead the Knights to the West Division regular-season and divisional playoff titles before they fell to Wenatchee in the championship series.
Solid sophomore and junior seasons at UC Riverside, and an outstanding 2010 summer with the Cotuit Kettle's in the Cape Cod League, enhanced his professional profile. He was selected in the third round by the Padres in the MLB draft as the 112th overall selection.
"I'd heard I was going to go in the second or third round but you never know when it comes to the draft," he said. "It's good to be drafted in the top 5 rounds, that's a nice accomplishment.
"When you get drafted that high they tend to keep an eye on you," and highly-drafted prospects often get the benefit of the doubt and more opportunities to succeed than those taken in the lower rounds.
Andriese signed quickly, and immediately moved into the Emeralds' starting rotation. He's 2-1 with a 2.38 ERA in five starts, while being limited to 30-35 pitches in each appearance to save wear-and-team on a right arm already taxed by a long college season.
He said playing for pay hasn't required a major adjustment from college.
"My approach is the same, baseball is baseball. But getting paid to play is nice," he said, even though he'll never get rich on Class A wages, "and it's always been a dream of mine to play professional baseball
"I grew up an Angels fan, but obviously now I'm a Padres fan. It's a great city and they have a very nice ballpark" in Petco Park, which also happens to be the most pitcher-friendly venue in the major leagues.
And while it could be some time before he gets there, he's thrilled his brother is nearby, sharing in those first steps toward a major-league career. David Andriese was in Eugene to watch Matt's pro debut.
"David and I are best friends, we've always been close and always have done everything together," Matt said. "It was exciting for me for him to come up there and it's great when I learned I was coming up here.
"I'm only 45 minutes away and we can see each other on our days off."