Knights Earn WCL Wild Card Berth.
August 11, 2015
Corvallis to Play Division Rival Bend in First-Round Playoff Pairing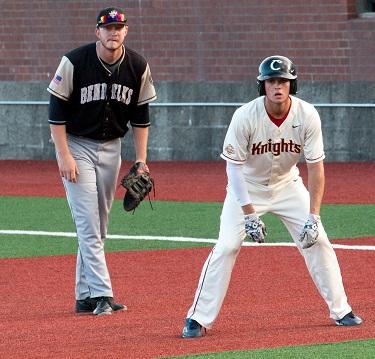 The Corvallis Knights made a late rush to ensure the team's ninth consecutive West Coast League playoff berth and make possible another postseason in Corvallis.
Since the Knights relocated to Corvallis, Goss Stadium has hosted a WCL postseason game since 2007.
Corvallis will face rival Bend in the first-round of the WCL playoffs.
The Knights and Elks will meet for a sixth time in the post-season, all in the first round.
Bend won its first division title this summer, snapping the Knights' streak of eight straight division titles.
The Elks finished the season with the league's top record at 35-16. Corvallis' league mark of 32-22 was good for second place in the South and a wild card berth.
A surge late in the season saw the Knights win 30 of their last 38 games to conclude the regular season with a 38-22 overall record.
Corvallis hit a low point this summer starting the season 7-14 in league, but turned things around in dramatic fashion by playing exceptional defense, throwing strikes, running wild on the bases and finding ways to win baseball games.
"We are very proud of this group of guys," said head coach Brooke Knight. "They faced down adversity, bonded, grinded and found a way to get here."
"We're playing well and playing as a team."
The Knights' first-round foe made things difficult for Corvallis early in the season as Bend ripped off eight straight wins vs. the Knights after Corvallis took the WCL season-opener at Bend 3-0.
In fact, Bend swept back-to-back series vs. Corvallis which included two series finale ninth-inning rallies from deficits of 7-4 and 6-2 to earn an extra-inning road win at Goss and walk-off home win at Vince Genna, respectively.
The Elks' 8-1 mark against the Knights fueled Bend's ascension to the top of the South and red-hot start.
Game one of the best-of-three series is at Goss Stadium tonight. First pitch is at 6:40 pm. Gates open at 6 pm.
Skipper Brooke Knight has named senior-to-be southpaw Cory Nelson of Pacific Lutheran as his opening game starter.
"Nelson earned this," said Knight. "We love Cory's competitiveness and he gives us a chance to win."
During the regular season, Nelson made 9 appearances and 7 starts in WCL action, and went 3-1 with a 2.60 ERA. He started the summer as a 10-day player, and earned a spot on the team by emerging as one of the team's most reliable starters.
Another 10-day sign that earned a spot and who has been a sparkplug for the Knights is outfielder Emilio Alcantar of Linn-Benton CC.
Alcantar led the team in batting with a .329 average in the West Coast League, and he also led the Knights in RBIs with 28.
Emilio's breakout summer also was instrumental in Alcantar signing with the NAIA champion Lewis-Clark State College Warriors. He will attend school there starting in the fall.
Corvallis puts major pressure on its opponents with its running game as the Knights led the league in stolen bases with 146.
Alcantar had 26 stolen bases while utility man extraordinaire Nick Madrigal, an incoming frosh at Oregon State, set a new WCL single-season steals mark by swiping 40 bags this summer (breaking former Knight Grant Melker's record set last season). His future college teammate Christian Donahue of OSU stole 23 bases.
Madrigal played outfield, shortstop and second base equally well bringing great energy to the team, speed on the bases and outstanding defense night in and night out. The future Beav hit .303 with a team-leading 35 runs scored, and he collected 9 doubles and 20 RBIs.
Junior outfielder Jes Staples of Bellarmine and frosh shortstop Clayton Fisher of UC Santa Barbara also joined in on the races as Staples stole 19 bases and Fisher 18.
Fisher was steady if not spectacular in the field flashing next level leather all summer primarily at shortstop.
"Our defense was really good this summer and strong up the middle again this season," said skipper Brooke Knight. "Fish was special, and we had solid catching with Ryan Matranga (San Francisco) offering much appreciated leadership behind the dish and in the clubhouse."
Bend brings thunder to the plate and is by far the best hitting team in the West Coast League.
The Elks are led by infielders and league MVP candidates Tyler Davis of Northwest Nazarene, West Tunnell of Baylor and future Oregon State Beaver Cadyn Grenier. Davis finished the regular season as the league-leader in hits with 70, doubles with 25 and RBIs with 50; and hit .352 with 40 runs scored and 7 home runs. Tunnel hit .356 with 36 runs, 14 doubles, 5 homers and 39 RBIs. Grenier, a 23rd-round draft pick of St. Louis in the 2015 MLB June draft and incoming frosh at OSU, led the WCL in runs scored with 45 while hitting .329 with 13 doubles, 11 stolen bases, 3 home runs and 27 RBIs.
Bend led the league in runs scored with 360, batting average at .306, doubles with 117 and total bases with 811.
Corvallis led the WCL in fielding percentage (.970) and in stolen bases.
The Knights' probable starter for game two at Bend's Vince Genna Stadium on Wednesday, August 12th is senior-to-be Alex Nesbitt of University of Washington. Alex made 11 appearances and 7 starts this summer and went 3-2 with a 2.77 ERA.
The bullpen is a Corvallis strength as Knights' closer Harrison McGhee of Concordia has registered 8 saves and has struck out 23 over 18.1 innings pitched this season while posting a 0.98 ERA. Coach Knight can also call on veteran Jorge Perez of Grand Canyon and Treasure Valley CC right-hander Branden Cutsforth (4-1, 3.96) and Western Nevada JC lefty Chase Kaplan (1-2, 1 sv, 3.80).
Corvallis set a new franchise total attendance record this season as the Knights have drawn 48,466 to date this year, a per game average of 1,518.
The entire Knights/Elks series will be broadcast on KEJO 1240 AM with the voice of the Knights Mike Parker calling all the action.