Ex-Knight Catcher Andrew Susac of OSU Gets Called Up to Big Leagues.
July 27, 2014
Debuts for Giants vs. Clayton Kershaw of Dodgers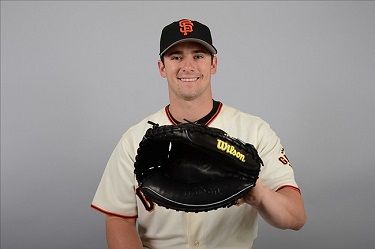 Catcher Andrew Susac, a starter on the 2009 Knights club that lost to Wenatchee in the West Coast League Championship Series, made his Major League Baseball debut on Saturday vs. Los Angeles. His first big league at bat was versus Dodgers' ace Clayton Kershaw, who tossed a two-hit shutout in LA's 5-0 win. Susac had been playing for the Giants' Fresno affiliate in the triple-A Pacific Coast League.
Andrew is replacing backup catcher Hector Sanchez, who suffered a concussion on Friday night when he took a foul tip from Adrian Gonzalez off his mask in the third inning of an 8-1 loss to the Dodgers.
Manager Bruce Bochy said the Giants will put Sanchez on the 7-day concussion list Saturday, and bring up Susac from Fresno to backup starter Buster Posey. Susac was playing in El Paso on Friday night when he learned he was being called up.
"It's kind of surreal," Andrew's father, Nick Susac, told the Roseville and Granite Bay (Calif.) Press Tribune newspaper. "I've coached a lot of kids and you want them all to do well, but when it's your own kid...it's just...wow, just surreal. That's the best way to put it."
Susac was a Giants' fan growing up in Roseville. He was their second-round selection in the 2011 draft after a standout career at Oregon State and began his pro career the following spring after signing for $1,100,000.
'We are thrilled that Andrew has accomplished his dream of playing in the major leagues with the team he grew up cheering for," Knights' president Dan Segel said. "And, as a huge Giants fan, it's great to see one of our ex-players in their uniform."
Andrew Susac played for the Knights the summer before his freshman year at OSU. He hit .208 in 33 games, with two homers and 13 RBIs, and threw out 13 of 30 would-be base stealers.
He was named the WCL's No. 1 pro prospect by Baseball America and Perfect Game, and earned honorable-mention all-WCL honors. He also earned honorable-mention all-Pacific-10 Conference honors with OSU as a sophomore in 2011.
Susac has improved at every stop while advancing through the Giants' farm system. His slugging percentage has increased at every minor-league stop, and his strikeouts have decreased.
He hit .244 (88-261) at Class A San Jose in 2012, with nine homers and 52 RBIs in 102 games.
He hit .256 (87-262) in 84 games at Richmond in the double-A Eastern League in 2013, with 12 homers and 46 RBIs. He also played in the Eastern League All-Star Game.
He was hitting .268 (57-213) in 63 games at triple-A Fresno this season, with 10 homers and 32 RBIs.
Andrew played with the Giants for much of spring training before being sent to Fresno. He hit .263 (5-19) in 10 games, with two doubles, a homer and five RBIs.
He's the ninth Knights' alum to play in the majors. Pitchers Mike Thurman (1992), Tommy Hanson (2005), Bud Norris (2005), Marc Rzepczynski (2006); catcher Chris Stewart (2001) and infielders Bobby Scales (1997), Matt Hague (2005) and Brent Morel (2006-07) all reached the majors after playing for the Knights.
More ex-Knights might be donning the Giants' orange and black in the not so distant future as when San Francisco assistant general manager Bobby Evans was asked by Knights' team president Dan Segel at the WCL All-Star Game Luncheon whether former Knights' Susac, Josh Osich (OSU, 2008) and Matt Duffy (Long Beach State, 2010) would be September call-ups, Evans replied that Susac was the most likely to be brought up, but that he liked all three players progression and felt like they were all future major leaguers.