Corvallis Knights 2008 MVP Alex Burg Makes Solid Impression with San Francisco Giants.
October 31, 2011
Former Knight Catcher Has Breakout Season at San Jose in 2011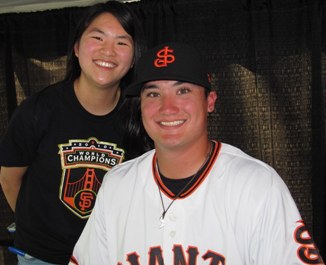 Alex Burg's 2008 statistics weren't particularly outstanding.
The catcher from Washington State hit just .206 in 48 games, with one homer and 15 runs batted in. His overall contributions, however, far surpassed those ordinary numbers.
Burg (pictured with a San Jose Giants fan) was the heart, soul and guts of the Knights. His grit, toughness, leadership skills and ability to play through two debilitating shoulder injuries set an example for his teammates and he helped lead them to the Knights' initial West Coast League championship.
Those contributions did not go unnoticed. The Puget Sound native was named the team's 2008 Most Valuable Player and first-team All-WCL before heading back to Washington State.
Burg was selected by the San Francisco Giants in the 24th round of the 2009 major-league draft after his junior season at WSU. He missed that summer with injuries, and then began his professional career in 2010 with Salem-Keizer, Augusta and the Arizona Rookie League Giants.
The 6-foot, 190-pounder, now 23 years of age, was promoted to San Jose in the long-A California League in 2011 and had a breakout year. Burg hit .298, with 14 homers, 24 doubles and 45 RBIs in a career-high 72 games.
Knights' Director of Public Relations Brooks Hatch caught up with Burg recently for a short Q&A on his life since leaving the Knights.
HATCH: What had you heard about the Knights before joining the team?
BURG: "I hadn't heard much about the Knights besides that they played at Goss Stadium and they were a great program that treated the players very well."
HATCH: What will you always remember about your summer with the Knights?
BURG: "I will always remember winning the championship. I will also remember how good our team was and close we were."
HATCH: What did you like about playing for the Knights and in Goss Stadium?
BURG: "I loved playing in Goss. It's such a nice field and we would get great fan support. The coaches were great and made the summer a lot of fun."
HATCH: Is it rewarding to be considered a building block for what has become one of the West Coast League's most successful franchises?
BURG: "It was great to be part of such a great franchise and I couldn't be happier that the Knights have continued to succeed at such a high level. The front office was 100% committed to winning and will continue to put a great team on the field."
HATCH: Do you still keep in touch with your Knights teammates?
BURG: "Yes, I still talk to a few guys. It's always great to reminisce about that great summer."
HATCH: Where do you think you'll play next year in the Giants' organization?
BURG: "I have no idea. They don't really tell us anything until late in spring training."
HATCH: Where do you live when not playing baseball?
BURG: "In the offseason I live in Des Moines, Washington. But this winter I'm playing in Australia (with the Perth Heat) for Knights' coach Brooke Knight."
HATCH: Have you been back to Corvallis since leaving the Knights?
BURG: "I have been back a couple times. My sister goes to Oregon State so I go visit her whenever I can. But since I'm always playing during the summer, I haven't had a chance to see a Knights game since I left."
HATCH: If you could do it all over again, would you still play for the Knights?
BURG: "In a heartbeat! I had a great time and I would recommend it to any young player."