Linfield Ace Brings Top Credentials to Knights.
February 26, 2014
Junior Pitcher Chris Haddeland Looks to Defend Championships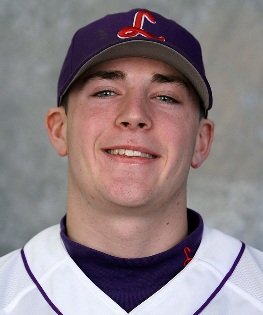 Some college baseball fans may have raised their eyebrows in surprise and asked, "Who?" when Linfield College junior Chris Haddeland's name appeared on the 2014 Golden Spikes Award's 60-man watch list.
They wouldn't have, had they been paying attention. Early in his junior season, Linfield's hometown ace is living up to all of his preseason accolades and establishing himself - once again - as one of the premier pitchers in NCAA Division III and perhaps one of the best in the country, no matter the classification.
Haddeland was 2-0 with a microscopic 0.43 ERA in his first three starts; he left with a 6-1 lead after six innings in his no-decision. He has 18 strikeouts in 21 innings and opponents are hitting just .114 against him.
"I'm just trying to improve on the things I can control," the 20-year-old McMinnville native said recently. "The quality of my pitches and my command, and doing what I can to help the team win, since that's the overall goal.
"I lifted a lot over the winter, and tried to stay in good shape. I've been working on my changeup," which he used infrequently in 2013. "It's a pitch I'd really like to have because it can be very effective."
Changeup or not, Haddeland's credentials are impeccable. He was 15-1 with a 1.07 ERA and 96 strikeouts over 126 innings pitched in 2013, helping the Wildcats capture the NCAA Division III national championship. He was a first-team D3Baseball.com All-American and all-West Region selection, a first-team all-Northwest Conference pick and the NWC Pitcher of the Year.
He also was the winning pitcher in the title game, a 4-1 triumph over Southern Maine at Fox Cities Stadium in Appleton, Wisc., over Memorial Day weekend. He pitched a complete-game 8-hitter, and had five strikeouts.
"It was a lot of fun," he said, recalling the day. "There was a lot of excitement and high energy, but I knew I needed to push that aside and treat it just like a normal game.
"That's easier said than done, but once I got rolling I felt pretty comfortable. We were playing great defense and I started feeling like we might have the game, so I tried to enjoy every second I had out there.
"It's fun to pitch in a game with higher stakes. There's more pressure on everybody and more excitement. I love it; it makes everything great and makes pitching great."
After a short break, he then played his second season with the Swift Current (Saskatchewan, Canada) Indians in the Western Major Baseball League last summer and was 7-3, 1.91 in 75.1 innings, with 70 strikeouts.
"It was a great place to play; Swift Current is a small town, you got to know everybody," he said. "They had a lot of seniors-to-be on the team so I played with a lot of older guys. I had a blast up there but I'm excited to be in the Northwest this summer.
"I have a lot of friends and family in the area, and not being in the middle of Canada will be nice. I know the Pacific Northwest pretty well and will be fun to play in all the cities around here."
Haddeland and teammates Jimmy Cleary and Jackson Ruckert will be the first Wildcats in history to play for the Corvallis Knights. However, his roommate, Zach Brandon, was a Walla Walla Sweet in 2013 and several other teammates are WCL vets, so he has a working knowledge of the circuit.
"Zach said it was a good league, a fun league that is baseball-driven and you're going to play good baseball," he said. "It will be a good experience. It would be great to be a starter, but I'm going in with the mindset that I could pitch in any situation. "I'm just glad for the opportunity."
Chris will be the fourth Northwest Conference Pitcher of the Year to throw for the Knights since the WCL's 2005 inception.
* Rob Dittrick of Pacific (2011) was the WCL's ERA leader, earned the Knights' Top Pitcher Award and was first-team all-WCL in 2012.
* Brian Ranta of George Fox (2012) was a 10-day signee in 2011.
* Joe DiPietro of Pacific Lutheran (2007) played on the 2006 Aloha Knights.
Other NWC pitchers have also shone for the Knights. PLU's Chris Bishop earned second-team all-WCL in 2013; Lute teammate Max Beatty was second-team all-WCL in 2011.
"I've pitched against those guys, they had good arms, were consistent and did well at their schools," Haddeland said. "They were able to transfer that success over to Corvallis."
Haddeland, who played at McMinnville High for current Corvallis High baseball coach Darren Bland, was the Pacific Conference Pitcher of the Year, a first-team all-state selection and a Reser's Oregon All-Star Series participant his senior season in 2011. However, he didn't become a starter until his senior year, and didn't receive one Division I scholarship offer.
No matter; he's happy to continue McMinnville's tradition of pitching excellence - current pros/former Oregon Staters Daniel Turpen, Joe Paterson and Kraig Sitton also pitched for the Grizzlies - and he loves playing in his hometown.
"I don't know what it is but we've had some pretty good arms in McMinnville," he said. "I could look up to a lot of great pitchers growing up.
"Playing here is a blast. My parents can come to every game, my friends from high school can come back and watch a game every now and then, and it's comfortable."
Cleary described his teammate as "a stud."
"He's sitting low 90s with his fastball and some of the best movement I've seen," with command, he added. "He's fun to watch, and getting an opportunity to face him in practice is a little intimidating.
"He just won the Division III Pitcher of the Year award, and he's coming back even better."