Ex-Knight Tommy Hanson Makes First Start for Angels.
April 6, 2013
Earns Win in American League Debut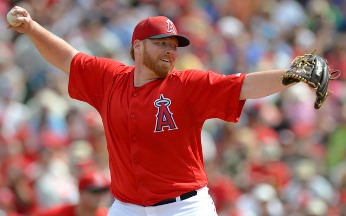 Ex-Knights' pitcher Tommy Hanson made his American League debut a memorable one as the right-hander tossed six solid innings for the Los Angeles Angels to earn the win at Rangers Ballpark in Arlington.
Tommy allowed 6 hits and 3 runs while walking none and striking out 4 as the Angels beat the Rangers 8-4.
This off-season, Tommy was traded by Atlanta to the Angels, a homecoming of sorts for the Redlands, California native. Hanson pitched four seasons in the big leagues with the Braves where he made 108 starts and went 45-32 and posted a 3.61 ERA while striking out 592 in 635 innings.
One of Atlanta's top prospects, Tommy ascended quickly through the Braves system to establish himself as a starter from 2009 through 2012.
Hanson signed with the Braves following his sophomore season at Riverside CC in 2006. He was set to return to the Knights if he had stayed in school (Tommy had committed to Arizona State).
Tommy starred for the Knights in 2005 setting single-season franchise records for innings pitched (78), strikeouts (116) and ERA (0.92) while going 7-1. He nearly pitched the Knights to back-to-back NBC World Series titles and was named West Coast Collegiate Baseball League Pitcher of the Year. He also earned Baseball America first-team College Summer All-America honors.