Beavers' Seattle-Area Ace Focuses on His Game.
April 18, 2013
Ex-Knight Matt Boyd of #5-Ranked OSU Featured in The Oregonian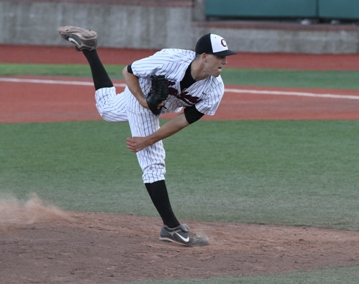 Former Knight two-way player Matt Boyd (pictured pitching for Corvallis at Goss Stadium in 2010) of the fifth-ranked Oregon State Beavers is having a dream senior season. This Friday, the Mercer Island, Washington native will be welcomed by friends and family as the Beavers visit the Huskies for a three-game Pac-12 series.
Matt will start game one.
Boyd pitched and played first base for the Corvallis Knights in 2010, the summer following his freshman season.
"Matt Boyd is a special young man," said Knights' team president Dan Segel. "He is fun to be around and an extraordinary role model. One of the many great things about working in this business is getting to know kids like Matt. And to watch him lead like he is now and pitch so masterfully is so rewarding as a Matt Boyd fan. Great to see good things happen to good people."
Former Knight Ben Wetzler (2011) and future Knight Andrew Moore complete the OSU starting weekend rotation. And the Beavs' closer, Scott Schultz (2011), is also an ex-Knight.
Beavers' Seattle-area ace focuses on his game.
by John Hunt, The Oregonian
Matt Boyd grew up 15 minutes from Husky Ballpark, with posters of Ken Griffey Jr. and Randy Johnson above his bed, raised by University of Washington grads and so popular in this area of Seattle that he earned the nickname "Mayor Matt.''
So on Friday night, the Oregon State ace left-hander, the Pac-12's most unhittable pitcher, will be putting his "insane focus'' to the test.
"I'm telling everybody Matt's off limits until Saturday,'' said Kurt Boyd, Matt's father, from his home in Mercer Island. "I told him, 'I'll help you deflect people, but you've got to focus.' ''
That focus has helped Boyd to a 7-1 record, a 1.55 ERA and an opponent batting average of .176 - best in the conference. After three years of being a reliever, Boyd has found a home at the front of OSU's rotation.
And when he comes home this weekend, when No. 5 Oregon State (28-6, 10-2) travels to Washington after its 5-1 win at Portland on Wednesday, he won't be the only Beaver making a homecoming.
Their No. 3 and No. 4 hitters, Michael Conforto and Dylan Davis, will be a 20-minute drive from home, and closer Scott Schultz lives some 45 minutes away in Gig Harbor.
To go from Seattle to OSU ace, Boyd learned from Tim Lincecum and others, crossed not only the state line but also the blue line, added a pitch, and went through the roles of long relief, short relief, closer and midweek starter.
"I don't think I can speak enough to the positive ripple effect he's had on guys,'' pitching coach Nate Yeskie said. "He really adds so many different layers of perspective.''
As a boy going to Husky Ballpark and the Kingdome and Safeco Field with his dad, Boyd not only idolized Lincecum and Johnson - he wore No. 51 and grew his hair long in Little League - but he also wanted to be like Seattle native John Olerud.
"To be a Friday guy and the best hitter on the squad,'' Boyd said, "that was always a dream of mine.''
Although he doesn't bat anymore, Boyd is one of the best longball hitter on the club. He hit a home run near the right-field lights at Goss Stadium as a freshman, and he still sneaks into the batting cages when he can.
The Cincinnati Reds drafted him in the 13th round last summer, and this year he should be picked much higher, and probably by a National League club again.
For a while, though, it seemed his future may have been on ice. Boyd was a defenseman in hockey for 11 years, but there were too many nights where he found himself on a bus around Whistler or Kamloops and he decided to concentrate on baseball.
When it came time to pick a college, Boyd quickly lopped off schools beyond the Northwest. He liked Washington State, Olerud's alma mater, but - unfortunately for the Cougars - visited Pullman during a massive snowstorm.
He visited Eugene, too. Like most kids, he was wowed by the facilities and the juice bar, but when new coach George Horton had to cancel a meeting, Boyd decided he couldn't commit to a school where he had not met the head coach.
Washington, which has won only two more games than Boyd this season, was in the midst of a coaching change and never showed much interest.
The two national championships at OSU under Pat Casey, and also the presence of hitting coach Pat Bailey - a friend of Kurt Boyd's - clinched it for Boyd.
"I wanted to grow as a man and a player and go to a good school,'' said Boyd, who volunteers at Bible schools, works as a camp leader, went to the Dominican Republic on a mission and, as Casey said, "character-wise, he's off the charts.''
In his first three years with the Beavers, Boyd compiled an 11-1 record and 2.22 ERA, but it wasn't until a rain delay in Portland last season that Boyd became a complete pitcher.
On that day, while tossing the ball around with good friend Tony Bryant, Boyd saw Yeskie leaning idly against the dugout rail and asked him how he gripped his slider.
"I threw about 10 of them and said, 'yeah, that's pretty sweet right there,' '' Boyd said. "So I asked him if I could throw it in the game.''
Yeskie, who calls all the pitches for the Beavers, called a few, Boyd didn't shake off the signs and threw them. On the very day he learned the slider - Boyd became a four-pitch pitcher.
His fastball is in the 87-92 range. He throws a changeup off that, shows his slider and likes to save his curve for the later innings. In a one-hitter against Arizona State, probably Boyd's best outing of his life, he didn't throw his curve until the seventh and used it to strike out three batters.
"You get ahead of guys, and the book kind of opens up,'' said Boyd, who also leads the Pac-12 in strikeouts looking. "What do you want to do? You have choices.''
Better strength and mechanics have helped all four pitches. To that, Boyd adds the experience of not only three OSU seasons but also of playing in the Cape Cod League this past summer, where he scouted some of the best hitters in the Pac-12 and picked the brain of Al Leiter, the former Mets lefty and TV commentator.
From all those pitchers and coaches and from his father, who sends him video of Pac-12 hitters and breaks down each outing with his son after the game, Boyd fills his pitching toolbox and opens it up for teammates.
"He's that likable uncle,'' Yeskie said. "When he talks, you have a knack for listening to him.''
He has put up better numbers than Stanford's Mark Appel, Arizona State's Trevor Williams and UCLA's Andy Plutko - all probable first-round draft picks this June - in helping the Beavers to their best start ever.
But Boyd, with the insane focus, knows those numbers are already in the past.
"Even if you have success, even if you roll through the first nine guys, it really doesn't matter, you still have to focus on the next pitch,'' Boyd said. "It may feel obscure and tedious, but man, when the job's done it feels good that you did it the right way.''
Notes: After playing at UP on Wednesday, a makeup of the rained-out March 5 game, the Beavers are staying in Centralia, Wash., before heading to Seattle for the weekend series against the Huskies. ... Over the past two weekends, Boyd, Andrew Moore and Ben Wetzler have a combined 1.49 ERA.