Ex-Knights' Team MVP Brent Morel Named MLB Prospect.
January 28, 2011
Morel Rated #3 Third Baseman in Big Leagues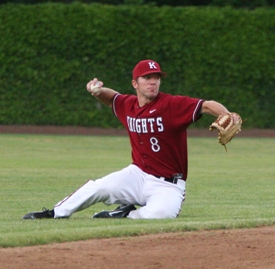 His teammates, opponents, home stadium, mode of transportation and yes, his paycheck, have changed dramatically in the four years since Brent Morel (pictured fielding at Mt. Hood CC in 2006) last played for the Gresham/Corvallis Knights franchise.
But the basics the Chicago White Sox' rookie third baseman, the #3 rated third baseman in MLB by MLB.com, learned in his one-plus summers in the West Coast League helped prepare the 23-year-old for what he hopes is a long and distinguished major-league career.
"One of the main things I learned about was playing every day," the one-time Cal Poly star said recently in recalling 2006, when he starred for the final Knights' team in Gresham, and 2007, when he played briefly for the Knights' inaugural Corvallis club before being injured.
"I got used to the schedule" he'd live as a professional the following year upon signing with the White Sox after being selected in the third round of the 2008 draft, he added. "You're not in school, you're just focused on baseball every day, getting into that routine.
"You fine-tune your workouts to get yourself into the best shape you can to play. You have the independence to do what you want. It's up to you how good you do. Do you want to take it seriously and make it a career and live out your dream, or just have fun?"
The numbers prove Morel took his stints with the Knights seriously, and used them as a steppingstone to a big-league career. He hit .284 in 2006 and was named the team's MVP.
Morel is the first former Corvallis Knight, and the franchise's fourth player overall, to make the majors since the WCL's 2005 inception.
Brent started 2010 at Double-A Birmingham and was promoted to Triple-A Charlotte after hitting .326, with two homers and 30 RBIs, in 49 games. He then hit .320, with eight homers and 34 RBI, in 81 games with the Charlotte Knights before being called up to the big club on September 3.
Several Charlotte teammates had been recalled on September 1, the day major-league rosters are expanded from 25 to 40 players. Morel wasn't one of them, so he thought his season would be ending soon when the Charlotte Knights arrived in Norfolk at 3 a.m. for a series against the Tidewater Tides.
"Then I got a call at 8 a.m., the coach woke me up and said, 'Hey, congratulations, you're flying out later today'" to join the White Sox in Boston.
"It was a shock, to be honest."
Morel didn't play in that series against the Red Sox, but it's an experience he'll never forget.
"It was really cool," he said. "Just being in Fenway Park, in the locker room and walking out and taking batting practice and infield, seeing the fans, watching (Boston reliever) Jonathan Papplebon come in and try to close out a game" was almost overwhelming to a player who started the 2010 season at Double-A Birmingham.
"It was pretty cool to sit there and experience it. As much as you try to downplay it, it was pretty surreal just being there and experiencing all that."
He got finally got his chance several days later, against Detroit at US Cellular Field in Chicago. And after starting out 0-for-3 in his first two games, he got his first big-league knock on September 10, a solo homer to center field off Kansas City veteran lefthander Bruce Chen.
"I just wanted to get a hit, no matter what it was, a broken-bat single, I didn't care," Morel said. "I hit it well," and it cleared the fence just short of the grandstands. The historic ball was then retrieved by a security guard for safekeeping, and a spot in Morel's trophy case.
Morel said he tried to stay cool and calm, but couldn't.
"I'm kind of a quiet guy and I hold my emotions in, but I had the biggest smile on my face, I couldn't hold it in," he said. "I got to the dugout and everybody was so happy for me, giving me high-fives and stuff."
Morel finished out the season with the White Sox, started the final 17 games, and had three homers, seven RBIs and a .231 average in 21 games. He described his month in Chicago as the ultimate learning experience, a real wakeup call to life at the major-league level.
"One thing I discovered was, everything is magnified," he said. "If I make an error in Triple-A, people at the game and a couple coaches will know. In the majors, everyone knows," because the crowds are far bigger, the daily media coverage far greater, and virtually every game is televised.
"And the talent is more consistent. As you move up, everybody gets better, but you have such less room for error" in the majors. "You have to be fine-tuned with your swing, fine-tuned with your preparation."
And you can't fall into the trap of thinking you can't compete, or aren't a peer, of opponents you may have admired while growing up. For example, he must envision Yankees' star Andy Pettitte as just another big-league pitcher, not one of the winningest lefthanders in baseball history.
"That's hard, because I've been a fan for so long, I know their history," he explained. "But playing against them you have to think, 'I'm the same person they are,'" a major-leaguer.
"It's me versus them. You have to forget about the past, and focus on the present."
Still, there are instances when it's all a bit overwhelming.
"Just sitting in the locker room, looking over and seeing Omar Vizquel, he's been in the big leagues since I was born," Morel said, alluding to the veteran shortstop, a potential Hall of Famer.
"Or Paul Konerko, the ultimate White Sock, or Manny Ramirez. Growing up watching them play, and now getting a chance to be in the same locker room, is fun."
And yes, the paychecks and some of the perks aren't bad, either.
"Traveling was definitely different," than in Triple-A, where teams bus or fly commercial, or in Double-A, where it's almost exclusively by bus. "You get on the team bus and drive right to the charter" when a series concludes and it's time to head elsewhere, he said.
"You have your own row on the plane. You're a major-league baseball player, and you get treated like one. It was a neat experience."
It's a job and a lifestyle he hopes to maintain. Morel will head to spring training in February as Chicago's projected starting third baseman, but he knows absolutely nothing is guaranteed.
"All I can ask for is to be in a position to compete for a job, and that's where I am," he said. "I have a chance to win a job; go out and play hard, show them what I can do, and give it all I can."
His ultimate goal is simple: Do as well as he can and stay in the major leagues for as long as possible.
"I'd love to play baseball as long as possible," he said. "It's been my dream since I was a little kid, so hopefully I can play for as long as I can."