Slick-Fielding Shortstop Michael Lucarelli of Portland Returns to Goss Stadium.
March 5, 2014
Pitcher Jackson Lockwood of UP to Join Luc for Summer 2014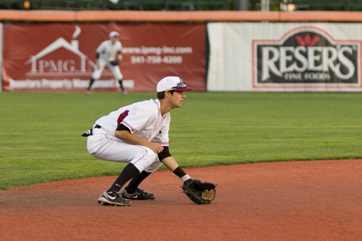 Mike Lucarelli (pictured) is eager to make some more memories at Goss Stadium. Jackson Lockwood's ready to make some new ones.
In other words, both University of Portland Pilots are excited about their upcoming West Coast League season with the Corvallis Knights.
It will be the second go-round for Lucarelli, a 6-foot-1, 170-pound junior shortstop from Enumclaw, Wash., who was an integral piece of last year's WCL champions. It will be the first summer in Corvallis for Lockwood, a 6-4, 195-pound right-handed pitcher from Broomfield, Colo., who played for the Klamath Falls Gems in 2013.
Lucarelli went 0-for-3 in yesterday's 5-0 loss to Oregon State at Goss Stadium, not the positive sign he was looking for in his quest to get turned around after a slow start offensive. He's hitting .132 (5-38) in 11 games, with no homers and an RBI.
"I've been hitting the ball on the nose I just haven't found the right spots," Lucarelli said. "I'll just keep grinding, work hard, take one game at a time and one pitch at a time.
"The hits will come. I'm trying not to get too down on myself. Just focus on putting the ball in play. After that, it's out of my hands."
One of three Division I starting shortstops on the 2013 Knights - Peter Van Gansen starred at Cal Poly, Chris Rabago at UC Irvine - Lucarelli played outstanding defense at shortstop and at second base and hit .252 in 52 total games, with a homer and eight RBIs.
He was especially effective in the playoffs, batting .500 (3-6) in four games, with a double, two walks, three runs scored and a .625 (5-8) on-base percentage.
"I loved it here last summer," he said. "I'm ready to make more memories. I really liked our team; we gelled and I think that's why we were so successful.
We all knew our role and what our job was.
"We just came out and did our jobs. Our job was to win," and he now has a championship ring to show for it.
Luc, as he's affectionately called by teammates, said he'll take the same attitude this summer and play shortstop, second base, or wherever coach Brooke Knight decides to put him.
"I'll play anywhere," he said. "I'll play center field if I have to, as long as I'm in I'm happy. Last year playing second helped me be a better shortstop. I was competing against Peter and 'Bago," and that pushed him to excel, which sometimes doesn't happen in the more laid-back atmosphere of summer ball.
Lockwood was 2-2 with a save and a 4.67 ERA in 12 games for the Gems last summer. He had two starts and 25 strikeouts in 34.2 innings. As a frosh at Portland, Jackson made 16 appearances, 3 starts and posted an impressive 1.77 ERA while striking out 24 and walking only 5 over 35.2 innings pitched.
He's 2-1, 4.70 in five games with the Pilots so far this spring, with 10 strikeouts in 15.1 innings. Jackson gave up eight runs in three innings at Oregon in his lone start, but otherwise has been near-perfect in long relief or as a setup man for closer Colin Feldtman, another 2013 Knight.
"My off-speed is working well," Lockwood said. "At Oregon they were swinging and hitting everything I threw. But I got back on track against UC Irvine last weekend and I'll probably be used in middle relief" for the foreseeable future.
Lockwood hopes to start for the Knights this summer to prepare himself for a similar role on the 2015 Pilots. And after playing at Goss Stadium as a visitor in 2013, he's eager to play for the home team this summer.
"It was great to play here," he said. "There were a lot of fans. It should be a fun summer."