Former Knight Southpaw Tyler Anderson of Colorado Makes MLB Debut.
June 12, 2016
Lefty Turns in Solid Start in Rockies 2-1 Home Win vs. Padres.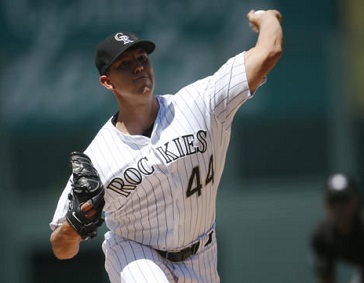 Former Corvallis Knights southpaw Tyler Anderson of University of Oregon
made his MLB debut
today at home vs. the San Diego Padres.
The lefty from Las Vegas, Nevada turned in an impressive first start as Anderson tossed 6.1 innings of one-run baseball allowing no walks while striking out six in the Rocks 2-1 home win over San Diego.
Anderson pitched for Corvallis in 2009. He was placed with the Knights by then pitching coach Andrew Checketts at Oregon. On the day Anderson debuted in the bigs, Checketts UC Santa Barbara Gauchos stunned highly rated Louisville by beating the Cardinals 4-3 on a walk-off grand slam to advance to the College World Series.
Checketts began his college coaching career with the Knights in 2000 as the team's pitching coach.
Anderson made 5 appearances for Corvallis in 2009, tossing 7 innings while striking out 6 and posting a 3.86 ERA.
The Knights 2009 club went 49-13 and played in the WCL Championship Series vs. Wenatchee.
That summer, Anderson threw to two future Big League catchers in Rocky Gale (Padres) and Andrew Susac (Giants).