Knights Clinch First-Half South Title.
July 5, 2016
Corvallis Secures Spot in 2016 WCL Postseason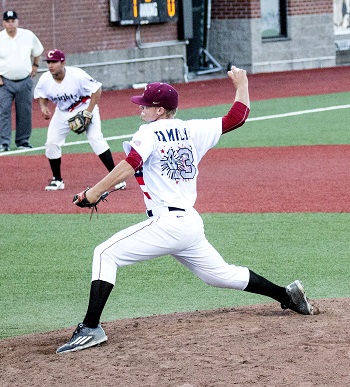 The Corvallis Knights secured a spot in the 2016 WCL postseason by clinching a first-half South title with its win yesterday at Yakima Valley. The Knights can finish no worse than in a first-half tie with Yakima Valley after improving to 15-8 by edging the Pippins 2-1. Corvallis owns the tie-breaker advantage - highest winning percentage in division - over the Pippins.
Yakima Valley finished its first-half a day earlier at Yakima County Stadium, dropping a Sunday home contest 3-1 to Corvallis to wrap its first-half with a 15-12 record.
The Knights finish their first-half with one remaining game tonight at Yakima Valley and three home games vs. Wenatchee July 6-7.
With the Knights first-half South title, Corvallis ensured an appearance in the WCL playoffs for a 10th consecutive season. Knights skipper Brooke Knight has led Corvallis to the postseason 9 times now. Current Chicago Cubs scouting director Matt Dorey guided the team to the playoffs in 2007 to start the streak.
It took a ninth-inning homer by frosh outfielder Cody Hawken of University of Portland to put Corvallis up 2-1, and junior southpaw Trenton Dupre of Washington State to close it out in the bottom half of the inning to earn the save and a trip to the postseason for the Knights.
Corvallis joins Victoria as first-half division champions.
The WCL first-round of playoffs starts Tuesday, August 9 and runs through Thursday, August 11. Both the first-round and WCLCS are best-of-three series.