Fourteen Knights Selected in 2012 MLB June Draft.
June 7, 2012
Ex-Knight Mitch Haniger of Cal Poly Goes in First Round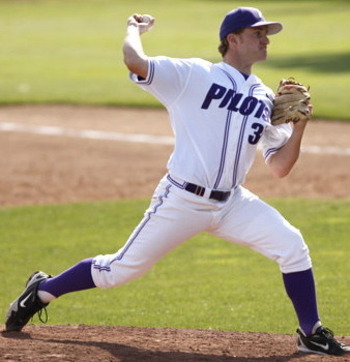 Fourteen current or former Corvallis Knights were selected in the 2012 Major League Baseball draft, which concluded Wednesday afternoon.
The highest pick was Cal Poly center fielder Mitch Haniger, a 2010 All-West Coast League performer. He was taken by Milwaukee in the supplemental first round, as the 38th overall selection.
It's the second year in a row a former Knight was drafted in the first round. Pitcher Tyler Anderson (2009) of Oregon was the Colorado Rockies first-round pick in 2011.
Other drafted Corvallis Knights include:
* Pitcher/infielder Carson Kelly of Westview High School (2012) was selected by St. Louis in the second round, as the 86th overall pick. He's signed with Oregon.
* Infielder Zach Green of Jesuit High in Sacramento, a 2012 Knights' signee, went to Philadelphia in round three, with the 125th overall pick. He has signed with the Phillies and will not play for the Knights, or at Oregon State.
* Washington State first baseman Taylor Ard (2009) went to Seattle and Portland ace Kyle Kraus (pictured) was selected by the Boston Red Sox in the seventh round. Kraus earned first-team All-WCL honors with the Knights in 2009 and 2010
* Oregon State pitcher Matt Boyd (2010) went to Cincinnati in the 13th round. Long Beach State shortstop Matt Duffy (2010) was picked by San Francisco in the 18th round.
* University of Portland pitcher Chris Johnson (2011) was chosen by the San Francisco Giants in the 17th round.
* Kentucky infielder Thomas McCarthy (2010) was selected by the Chicago White Sox in the 18th round. He's a Corvallis native and graduated from Crescent Valley High School.
* Texas Tech catcher Bo Altobelli (2010) was picked by the Minnesota Twins in the 21st round. UC Riverside right-handed pitcher Eddie Orozco (2008-09) went to the Chicago Cubs in the 22nd round.
* Camas High School senior catcher Austin Barr (2012) was drafted by the New York Mets in the 29th round. A Stanford signee, he is likely to honor his commitment to the Cardinal and not turn pro.
* Catcher Ryan Gorton (2011) of Oregon State went to Oakland in the 31st round. Southpaw pitcher Mark Trentacosta (2011-12) of UC Irvine was picked by St. Louis in the 34th round.
In other Knights news, pitching coach Connor Lambert (2011-12) has been hired as the new pitching coach at Tacoma Community College. An Olympia native, he lettered from 2007-10 at Washington State.