2015 Knights Pitchers Shining Early in Spring 2016.
March 6, 2016
Kaplan of Western Nevada and Clemmer of Central Arizona Both Undefeated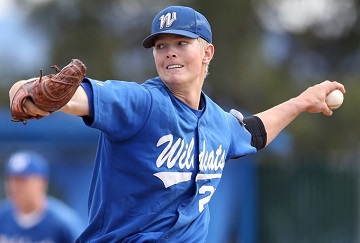 Members of the Corvallis Knights 2015 pitching staff are shining brightly early this spring. Southpaw Chase Kaplan (pictured) improved to 5-0 this past weekend for Western Nevada College. The sophomore, who is returning this summer, has posted a 2.03 ERA over 7 appearances, 5 starts and 31 innings pitched.
This past Saturday, last season's Knights closer Harrison McGhee tossed a two-hit 7-inning shutout vs. Western Oregon at Porter Park in Northeast Portland.
Sophomore Dakody Clemmer of Central Arizona College is 3-0 and has struck out 33 batters over 31.1 innings pitched.
Lefty sophomore Cameron Bishop of UC Irvine improved to 2-1 with a win this past Saturday vs. UT-San Antonio. Over 4 starts, Bishop has struck 14 over 15.2 innings pitched.
Sophomore Ryan Walker of Washington State has struck out 11 over 12.1 innings and 4 relief appearances while posting a 2.19 ERA and recording one save.
Senior southpaw Cory Nelson of Pacific Lutheran is 2-0 with a 1.60 ERA over 5 starts.